Nick Fury: Agent of S.H.I.E.L.D.
(1998)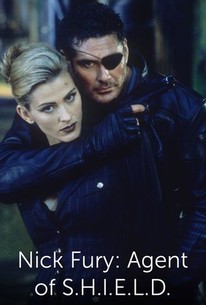 AUDIENCE SCORE
Critic Consensus: No consensus yet.
Nick Fury: Agent of S.H.I.E.L.D. Photos
Movie Info
Based on the popular Marvel Comics franchise, the made-for-TV Nick Fury: Agent of SHIELD stars David Hasselhoff in the title role. Having retired from active duty upon the end of the Cold War, war veteran and secret agent Col. Nick Fury squirrels himself away in his Yukon retreat. Meanwhile, enemy organization Hydra is taken over by the progeny of Fury's perennial enemy, ex-Nazi Baron Von Stucker. Under the leadership of Von Stucker's daughter, "Lady Viper" (Sandra Hess), the bad guys have gotten their mitts on a deadly virus, and intend to destroy America within 48 hours. Summoned from his hideaway by his old bosses at SHIELD, Nick Fury quickly reunites his familiar band of heroes -- the Contessa (Lisa Rinna), Dum-Dum (Garry Chalk), Gabriel (Ron Canada), et al. -- along with a newcomer to the ranks, Britisher Alexander Goodwin (Neil Roberts). Clearly the pilot for a proposed TV series, Nick Fury: Agent of SHIELD never quite makes up its mind to be taken seriously or to be enjoyed as high camp. The film was first shown over the Fox network on May 26, 1998.
Critic Reviews for Nick Fury: Agent of S.H.I.E.L.D.
All Critics (3) | Fresh (2) | Rotten (1)
Ironically, all of those things make this superhero movie a better watch than any of those overly-long, CGI-heavy, hollow Marvel films being pumped out of The Russo Brothers...
You have to wonder how different today's live action comic book landscape would look if "Nick Fury: Agent of S.H.I.E.L.D" took off as a hit series, don't you?
Audience Reviews for Nick Fury: Agent of S.H.I.E.L.D.
One for completists only.
Marcus Woolcott
Super Reviewer
The Hoff stars as Nick Fury: Agent of SHIELD in this amazingly awful piece of garbage. The plot is ludicrous and the actors chew up the scenery. The sets and costumes look dirt cheap, and the directing is boring and one-dimensional. One of the most embarrassing things to ever come out of Marvel, Nick Fury: Agent of SHIELD is everything that is wrong with low budget sci-fi.
Dann Michalski
Super Reviewer
½
Here comes the cheese... For a T.V. movie from Fox circa the mid-nineties, yeah, I guess Nick Fury is a halfway decent effort; the problem is, Fox has always made TERRIBLE T.V. movies, and by the standards of any other audio/visual art form, this has got to be the second-to-worst film I've ever seen (with the dubious honor of "worst movie ever" going to the Roger Corman Fantastic Four). Filled with horrible, obvious lighting, incredibly painful acting, and laughably bad special effects, Nick Fury is like an assemblage of the absolute worst spy-movie clichés in the book- which is actually really disappointing, since it's written by David Goyer, the comic-movie golden-boy who brought us the Blade trilogy and the first draft of Batman Begins. The story is a familiar one: terrorist organization HYDRA is plotting to release a deadly super-virus in the greater metropolitan area of New York City, and all that stands in their way is secret intelligence organization SHIELD. With the rise of a new leader in the HYDRA ranks- the daughter of the evil Baron Wolfgang Von Strucker- SHIELD has called their best agent out of early retirement: the grizzled, one-eyed rebel-in-a-leather-jacket, Nick Fury. Portraying our leading tough guy is perpetual running gag David Hasselhoff, and while he does occasionally call forth the gruff loner archetype from his subconscious during his deliveries, the years of oiled-up pretty-boy parts have taken their toll; the Hoff can't act his way out of a paper bag, much less an enemy stronghold, and not once during this film do you buy the man as anything more than a guy desperate for a paycheck and possessed of no discernible skills or assets (save the shape of his chin). Seriously, it's amazing how bad his performance is in this part, but what's even more astounding is that HE'S NOT THE WORST ACTOR IN THE MOVIE. Sandra Hess wins that contest hands-down; as Viper, the wicked, psychotic mastermind behind the diabolical doings of HYDRA, Hess is a nightmare, speaking in an overbearing German accent that renders every line of dialogue intolerable. Her gestures are extremely melodramatic, and her speeches are cringe-inducing. In fact, the only thing that keeps her from being impossible to watch is the fact that she's... well, hot. Still, it's not enough to make her character enjoyable to watch. Besides, it's not as if there's any shortage of attractive women in the film (even if none of them can act worth a damn); Lisa Rinna, for instance, plays Contessa Valentina de Allegro Fontaine (a name which, of course, Nick has to say IN FULL when she first pops up), a fellow SHIELD agent and prerequisite former love of Mr. Fury (who still harbors feelings for the big lug). She, at least, isn't painful to watch, but she sure didn't win any acting awards for the part. Also, we have Tracy Waterhouse as Kate Neville, an agent with an E.S.P. chip (?!?) who makes for a great plot device. And finally, we have Neil Roberts as Alexander Goodwin Pierce, the greenhorn agent who graduated top of his class and idolizes Fury; he comes off better than you might expect, but still predictable and tired as a character. The script is pretty poor- it sounds like they went off a first draft, and I'm guessing they didn't do a polish. Still, the film MIGHT have been something interesting if not for its execution: brightly colored lighting (and an over-reliance on back lighting), poorly arranged shots, and DUTCH TILTS (bane of the serious filmmaker) jut pointedly out at the viewer- not to mention how the piss-poor production values turn all the sci-fi elements into bad jokes (how many low-budget sci-fi shows from the nineties featured a body-scanner machine with flashing neon rings, I wonder?). Not that the science fiction concepts are all that believable to begin with- I mean, a portable, robotic duplicate programmed with your voice and mannerisms? NOBODY thought that was maybe a bit too far-fetched? Or what about the spray-off disguise? Or that bloody E.S.P. chip? The special effects are an interesting blend of models and early C.G.I., which succeeds in looking... completely fake! The design for the Helicarrier is decent, but I see nothing but a toy whenever it shows up on-screen. In summation, this movie of the week is a wreck, a misfired attempt to plunder two then-defunct genres (comics and spy movies) of any entertainment value they may have had left with as little effort as possible. At best, it's a great example of Marvel's long-dead past as a showbiz failure and an amusing piece of garbage (favorite moment: after Viper slips away in a dreadfully slow-moving glass elevator, Fury, after a pause, grumbles, "She's probably halfway to China by now."); at worst, it's absolute drivel, useful only for distracting the feeble-minded or confirming the existence of David Hasselhoff. David Goyer may have cut his screenwriting teeth on this sucker, but it's not even half as good as his following work, Blade. Hell, it's not even half as good as Blade: Trinity. If you want a Marvel fix, I don't care HOW desperate you are, I suggest you look elsewhere.
Darik Houseknecht
Super Reviewer
Nick Fury: Agent of S.H.I.E.L.D. Quotes
There are no approved quotes yet for this movie.