Crazed
(1978)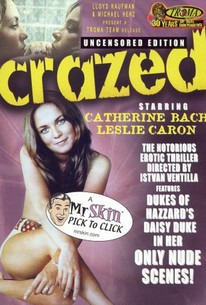 AUDIENCE SCORE
Critic Consensus: No consensus yet.
Movie Info
A hedonistic recluse seeking to control the lives of the few who faithfully serve her is plunged into a sea of madness as her paranoid suspicions tighten their grip on her sanity in this sensual drama starring Leslie Caron and The Dukes of Hazard's Catherine Bach. A voluptuous but reclusive widow who confines herself to life inside her giant mansion following the death of her husband, Nicole (Caron) uses her money and sexuality to pull the strings of those closest to her until the arrival of a handsome suitor and an aspiring dancer (Bach) find her wanton ways fading. When Nicole begins to suspect her newfound lover of being unfaithful, however, her momentary calm explodes into a hysterical madness that threatens to drive her to murder.
Critic Reviews for Crazed
All Critics (1) | Fresh (0) | Rotten (1) | DVD (1)
Fast forward to Catherine Bach's two all-too-brief topless scenes because the rest of the movie is incredibly amateurism and practically unwatchable.
February 23, 2007 | Rating: 2/10
Audience Reviews for Crazed
Catherine Bach gets topless, if that appeals you to the movie the this is one for you. This movie is one of those hard to find titles because of Catherine Bachs famous nude scene. Catherine went on to play Daisy Dukes and nowadays she is no where no be seen. At one time she was one of the most beautiful and popular stars in Hollywood, a shame really cos i don't think she managed to shake that Daisy Dukes image off, thats what ill remember her for anyway. There are a lot of people that will buy this movie for the one scene where Catherine takes off her top and her breasts are exposed, well if thats makes you happy then on you go. Catherine is not the star of the movie as she is killed off later by the weird crazed Nicole who is in love with her. This movie was released on DVD recently only through Uncut DVDS, it is a decent DVD, Mr Skin even gives a interview on Catherine Bachs nip slips, it's worth a look. I'm giving this movie 7 out of 10 only because of the lovely Catherine Bach, if your a fan of hers then you'll love it, if not the DVD could be used for a frisbee from your bedroom window
Cassandra Maples
Super Reviewer
Crazed Quotes
There are no approved quotes yet for this movie.