Night at the Museum
(2006)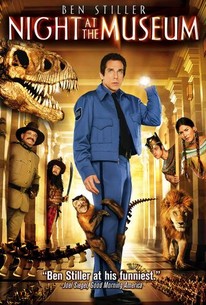 TOMATOMETER
AUDIENCE SCORE
Critic Consensus: Parents might call this either a spectacle-filled adventure or a shallow and vapid CG-fest, depending on whether they choose to embrace this on the same level as their kids.
Night at the Museum Videos
Night at the Museum Photos
Movie Info
Larry Daley, a down-and-out dreamer whose imaginative ideas have never paid off, finds himself in desperate need of a job. Larry has always believed he was destined for big things. But, he has no idea just how literally gargantuan and hairy a challenge he will face when he grudgingly accepts the supposedly menial graveyard shift as a security guard at the Natural History Museum. On his very first night on the job, Larry is handed an over-sized flashlight and a dog-eared instruction manual, then left all alone in the eerily quiet, cavernous museum. At least, he thinks he's alone. But wait, what's that noise? To his utter astonishment and disbelief, Larry watches in shock and awe as, one by one, the primeval beasts and storied icons that surround him stir magically to life--and total havoc ensues. Now, as Tyrannosaurus Rex and Attila The Hun carve a swath of destruction through the marble corridors, and lions and monkeys prowl the fragile exhibits, Larry is at a loss as to how to get the museum back under control. At his wit's end, Larry must recruit the help of historical heavyweight Teddy Roosevelt just to survive the night. Facing the possibility of losing his job and letting down his son Nick yet again, Larry must wage an incredible battle to save the museum, hoping to become at last the bold, adventurous dad he's always wanted to be. The man who's been forever waiting for his moment of greatness just found it.
Critic Reviews for Night at the Museum
Audience Reviews for Night at the Museum
You'd think that with such a ridiculous premise and with such cheesy humour that "Night at the Museum" will go down in flames, and although there are many moments that do, this is still a very fun family film that can be enjoyed any time. No, it does not break any new ground, but the sure joy that comes from watching all of these things and people come to life was a blast to see unfold. After many dead ends throughout his life, Larry Daley finds himself being hired as a night guard at the Museum of Natural History and it is his job to keep it secure once he finds out that all hell breaks loose at night. I think I have more fun watching this than I should, but it really is just a harmless family adventure that has it's moments. It is funny when it needs to be (even if it does go a little overboard) and it's charming when the charm feels necessary. "Night at the Museum" earns a mild recommendation.
Ben Stiller is Larry a security guard in a museum. He discovers the exhibition characters come alive at night. The characters are all great especially Owen Wilson as the Cowboy and Robin Williams as President Teddy Roosevelt. They have to stop the retired security guards from stealing the treasures that bring them to life. Good to see Dick Van Dyke as one of the security guards,
Candy Rose
Super Reviewer
½
Non-threatening. Non-offensive. Non-intersting but somehow still pleasant.
Christian C
Super Reviewer
Night at the Museum Quotes
| | |
| --- | --- |
| Easter Island Head: | Hey! Dum-dum! |
| Larry Daley: | Yes? |
| Easter Island Head: | You give me gum-gum! |
| Larry Daley: | I give you gum-gum? |
| | |
| --- | --- |
| Octavius: | We may be small, but our hearts are large! |
| | |
| --- | --- |
| Larry Daley: | Everything in the museum come to life at night! |
| | |
| --- | --- |
| Octavius: | (War) It's something we do to pass the time. |
| Jedediah: | Look, we're men. We fight, okay? That's what we do! |
| Octavius: | It's kinda how we pass the time. |