Night Falls on Manhattan
(1997)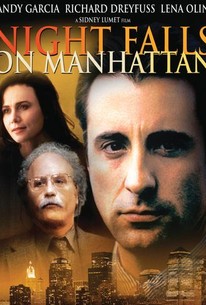 Night Falls on Manhattan Videos
Night Falls on Manhattan Photos
Movie Info
The delineation between good and evil and cops and robbers is tantalizingly unclear in this intelligent and cliche-free crime drama from Sidney Lumet that is based on Tainted Evidence, a popular novel from Robert Daley. Two members of New York's finest are about to bust one of the city's most powerful drug lords when something goes terribly awry. The ensuing shoot-out involves three precincts, and, following the dealer's escape, three officers are dead and one is critically wounded. Later the pusher turns himself over to prominent defense lawyer Sam Vigoda (Richard Dreyfuss). The politically ambitious district attorney Morgenstern (Ron Liebman) appoints promising rookie lawyer and ex-cop Sean Casey (Andy Garcia) to prosecute the dealer. The catch is that Sean is the son of the badly wounded cop, 37-year veteran Liam Casey (Ian Holm). Sean is talented but no go-getter; he is also extremely naive and truly believes that all cops are honest, especially his own father. The case goes smoothly, Sean wins, his father survives, and he even finds himself the object of a young woman's affection. Things are going great until a corpse is fished out of the harbor and poor Sean finds himself caught up in an increasingly tangled web of corruption and deceit that leaves him unable to make much distinction between the police and the criminals.
Critic Reviews for Night Falls on Manhattan
Audience Reviews for Night Falls on Manhattan
great film, not a classic but a Lumet film nevertheless. The acting is very strong and the tale of corruption through the police and political side is interesting. makes me wish they created more of these films.
Brendan O'Connor
Super Reviewer
It's overstuffed with plot, characters, and speeches (so many, many speeches). Like most of Lumet's later work the film plays like a poor imitation of his earlier and better morality thrillers.
Alec Barniskis
Super Reviewer
½
When I came across the move, the synopsis of this Lumetic flick didn't appeal to me as it sounded familiar. Despite of the fact, hardly having any better options (going by my last couple of ratings, one may deduct that it's becoming harder to please ME!!), I gave it a go. But I was determined that if it starts sucking, and doesn't get better soon, I'll stop right there. To my surprise, this mediocre drama entertained me more than the previous disappointments. It's so good that I now look forward to coming across other intriguing films. Yeah, I was kinda bored with more films than less, regardless of their ratings. The frequency of watching films was gradually getting lower and lower, and II was on my way down the ladder, but this one stopped me. One of my problems was that no matter what film it is, I found them quite predictable, and repetitive more ofter than not to keep me engaged. Writers' block is understandable, but I can't just sit by and enjoy it all the same. In fact, just a few days ago, I'd thoughts on remakes. I don't mind them too much, but when "it's a remake of. XYZ" plays a major part in its promotion, it repels rather than attract me. I'd rather go watch the original, and let the remake be. But then it struck me that original ideas may be hard to get to, but at least a better execution can make the difference. Besides, it should only borrow the main theme of the original, and then present it with fair execution to offer an entertaining piece, and that too not being promoted as a remake. The theme here is not a new one, but the execution made difference for me. I liked how the movie started, and hardly fell apart at any point. It kept things going, and while predictable, it still remained interesting. Add to it, the unexpected (not quite so now when I come to think of it, and apparently not applicable to everyone) moments leading to the culmination. It turned over almost everything I'd predicted as what would be next, and I liked it for a change. Ignoring the release year may have helped there, but I liked it no matter what. Performances were first rate, and as mentioned before, after a long time, I've found a satisfying movie. But BEWARE: The reason may not (only) be that it's really a good one, but that: I hadn't seen a worthwhile movie for quite long, OR May be I was expecting more than I should have, OR Simply that I was having a nice time (another rarity these days around), and watching it under favorable conditions. For good or otherwise, I can only hope my audience's block won't make me quit watching films. Zzzzzzzzzzzzzzzzzzzzzzzzz
familiar stranger
Super Reviewer
Night Falls on Manhattan Quotes
There are no approved quotes yet for this movie.