A Night in Casablanca
(1946)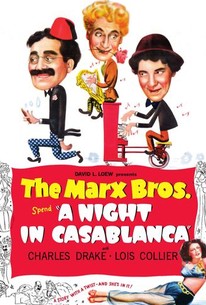 A Night in Casablanca Photos
Movie Info
After a five-year absence, the Marx Brothers returned to the screen in the independently-produced effort A Night in Casablanca. Originally conceived as a parody of Casablanca (with character names like "Humphrey Bogus" and "Lowen Behold"), the film emerged as a spoof of wartime melodramas in general. Someone has been methodically murdering the managers of the Hotel Casablanca, and that someone is escaped Nazi war criminal Heinrich Stubel (Sig Ruman). Disguised as a Count Pfefferman, Stubel intends to reclaim the stolen art treasures that he's hidden in a secret room somewhere in the hotel, and the only way he can do this undetected is by bumping off the managers and taking over the hotel himself. The newest manager of Hotel Casablanca is former motel proprietor Ronald Kornblow (Groucho Marx), who, blissfully unaware that he's been hired only because no one else will take the job, immediately takes charge in his own inimitably inept fashion. Corbacchio (Chico Marx), owner of the Yellow Camel company, appoints himself as Kornblow's bodyguard, aided and abetted by Stubel's mute valet Rusty (Harpo Marx). In his efforts to kill Kornblow, Stubel dispatches femme fatale Beatrice Reiner (Lisette Verea) to romance the lecherous manager, leading to a hilarious recreation of a key comedy sequence in the Marxes' earlier A Day at the Races. Arrested on a trumped-up charge, Kornblow, Corbacchio and Rusty escape in time to foil Stubel and his stooges. As in most Marx Brothers epics, A Night in Casablanca includes a tiresome romantic subplot, this time involving disgraced French flyer (Pierre) and his faithful sweetheart Annette (Lois Collier). Though hampered by listless direction and witless one-liners, A Night in Casablanca contains enough hilarity to compensate for its many flaws; some of the best visual gags were conceived by an uncredited Frank Tashlin, including Harpo's legendary "holding up the building" bit.
Critic Reviews for A Night in Casablanca
Audience Reviews for A Night in Casablanca
½
Not the best of the Marx Brothers movies, but it is really funny, and I recommend seeing it if you're a fan.
The Marx Brothers financed this production themselves and took some of the comic bits on a touring stage show again to test them. This extra work pays off. There was a four year gap since The Big Store was released and over ten years since their first MGM picture, A Night at the Opera. This movie has a slight flavor of the classic Casablanca, but it really has its own story without just spoofing the Bogart film. For once the romantic couple of Pierre and Annette played by Drake and Collier are not pushed to the forefront unnecessarily. They have no solos or duets to steal screen time away from the brothers. Having Sig Ruman back again for the brothers to harass with loony antics is almost as good as having Dumont. He is a Count, a former Nazi staying undercover at a hotel in Casablanca. The Count has been ordering a series of hotel managers murders because a treasure has been hidden on the premises. The Count has Beatrice, played by Verea, in on the plan to snatch the treasure. She is seductive, funny, and much more striking as a female lead than Collier. Harpo briefly serves as the Count's manservant. Chico hangs around with no real reason for being there, but later assigns himself as a bodyguard yet again. Groucho is Kornblow, the schmuck hired as the new hotel manager. Eventually Harpo discovers the treasure by accident, but takes a time out to play another beautiful piece on the harp, Groucho escapes a few attempts on his life, and the wisecracks and timing of the comic routines are restored to their former glory. Harpo driving the Count and his other servant mad, Harpo reprising a game of charades with Chico, Groucho taking revenge on a customer for calling him clerk, the bits on the elevator, Groucho carrying too much stuff from room to room for a date with Beatrice, the boys unpacking the Count's suitcases, and some of the business on the plane are great comic set pieces. Far better than their previous three movies.
Byron Brubaker
Super Reviewer
Now I love the Marx Brothers but this feels a little forced. This isn't horrible, not by a long shot, but it's no Duck Soup either. Sort of a conglomerate rehash of bits we've seen before.
Randy Tippy
Super Reviewer
A Night in Casablanca Quotes
There are no approved quotes yet for this movie.