A Night in Heaven
(1983)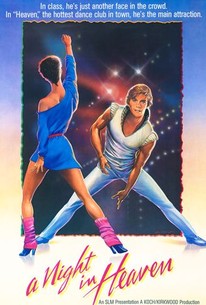 AUDIENCE SCORE
Critic Consensus: No consensus yet.
Movie Info
Veering off in several thematic directions at once, A Night in Heaven starts with a torrid student-teacher romance which becomes somewhat derailed by adding on a failing marriage, political allusions related to NASA, a frustrated sister of the teacher, and several additional characters, many of whom are stuffing bills into male dancer's jock straps. Faye (Lesley Ann Warren) has just flunked a student in her speech class when she goes out that night to the "Heaven" nightclub and lo-and-definitely behold, there is Rick (Christopher Atkins), the failed student in his incarnation as a successful male stripper. This was a view of the student that Faye had never expected, and before anyone can flip a $20, the two are making mad, passionate love. While this may satisfy a few fantasies, events lead to an ultimate confrontation between the teacher's husband (who worked for NASA) and Rick that is even less believable than the student-teacher sexual liaison.
Audience Reviews for A Night in Heaven
I am almost embarrassed that "A Night in Heaven" is from John G. Avildsen (the director of "Rocky" and "The Karate Kid") and Joan Tewkesbury (writer of "Nashville") because it's one of the most nonsensical movies I have ever seen, and yes, I'm judging this by 1980s standards. Long story short it's about sexual repression, male strippers and fired NASA employees. Why did I watch this? One simple reason. Christopher Atkins, who is extremely sexy in this and it's worth watching just for him. Not that he's a good actor by any stretch of the imagination, but he's just so damn hot no one cares. This is a truly bizarre movie and the last 10 minutes are some of the strangest.
Steven Carrier
Super Reviewer
I liked it, maybe it's more of a chick flick, but hey, I'm a chick! The story was good, and the guys are hot, I really enjoyed it. It's not the best romance movie, but it's entertaining, and has some good 80s songs.
A Night in Heaven Quotes
There are no approved quotes yet for this movie.