Night of the Demons III (Demon House)
(1997)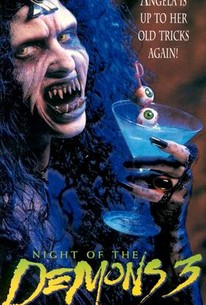 AUDIENCE SCORE
Critic Consensus: No consensus yet.
Night of the Demons III (Demon House) Photos
Movie Info
In this second sequel to Night of the Demons, a bunch of teens stay out past their bedtimes, visit a convenience store, accidentally shoot a policeman, and flee. Things take an even more deadly, supernatural turn when they make the mistake of hiding out in a haunted funeral home.
Critic Reviews for Night of the Demons III (Demon House)
Audience Reviews for Night of the Demons III (Demon House)
Last entry in this average horror franchise that was spawned from a cheap n cheesy 80's flick, and again its not too bad as a throw away piece of trashy horror. The plot is pretty much the same spiel as before accept the teen fodder on offer this time are minor criminals (by mistake and spur of the moment madness) on the run that swear a lot and are actually reasonably engaging, which is surprising. There is a lot of sexy groping and kissing going on throughout (horror flicks need cheap dirty thrills like that you see) accompanied by amusing terror and 'dangerous' acting, if you can call it that. But all in all its still fun and like its previous offerings it has some great makeup and gore effects which do shine through the regular crud. If you like slashy bloody horror flicks then this trilogy is great and much better than you would expect I'm sure. This is about on par with the sequel and probably better than the original because of the good effects. Although the actual horror aspect has slightly drained away which seems to happen with these sequels. As time passes from the original people realise this stuff is actually daft so the films become more like parodies of themselves but maintain the gruesome effects.
Phil Hubbs
Super Reviewer
Third entry in The Night of the Demons franchise is a flawed but still very enjoyable horror flick. The elements that made the first two films great are here, but are a tad watered down. The result is an average but enjoyable Horror flick which is more tongue in cheek than actually horrifying. Despite this, the film does manage to scare just enough for you to have a good time. But by no means is this better than the first film, which was brilliantly directed by director Kevin S. Tenney. This film is cheesy, comical and fun. I don't think that this is a bad third entry at all. But compared to the first two, of course it's disappointing. But fans of the first film might not be that disappointed because this is still a fairly well done sequel. The cast are decent at best, considering that this is a direct to video sequel. The film still has plenty of blood for the gore fans out there, and the film does have great moments, but as a third entry in this franchise, this is a bit of a disappointment. But by no means is this a bad film, but if you watch this, you should realize that it doesn't beat the original. The film follows essentially the same formula, but surrounds a bunch of criminals hiding out in the funeral home. This is a good enough third entry, but like I've said a bit disappointing. However this is still a fun film to watch. Amelia Kinkade of course returns as Angela, and she is just as great as ever. I also felt that there was a more tongue in cheek feel to this film than the first two in the series. The film tended to rely more on comedy than horror at times, and it did feel like the filmmakers lost track of what they were doing. But then Night of the Demons is a Horror Comedy, but for this entry they tended to push the comedic elements a little harder than the previous entries. Despite the flaws, Night of the Demons 3 is still a very entertaining film and is still a good viewing.
Night of the Demons III (Demon House) Quotes
There are no approved quotes yet for this movie.