The Night of the Iguana
(1964)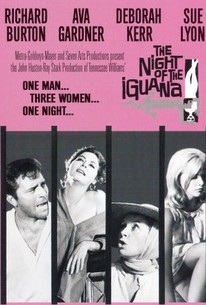 The Night of the Iguana Photos
Movie Info
John Huston's adaptation of the Tennessee Williams play stars Richard Burton as the protagonist, Reverend T. Lawrence Shannon. An alcoholic, Shannon has been kicked out of his own church and is now working in Mexico as a bus tour guide. He takes a group of schoolteachers to a dilapidated hotel run by widowed Maxine Raulk (Ava Gardner), where they all are soon stranded. The youngest of the group, Charlotte Goodall (Sue Lyon), is attracted to Shannon, but Judith (Grayson Hall), the group's leader, is set against it. After catching Shannon and Charlotte together, Judith threatens to report Shannon's behavior to his employers to have him fired. Soon Hannah (Deborah Kerr), an idealistic young artist, and her poet grandfather (Cyril Delvanti) arrive at the hotel while Hannah and bus driver Hank (James Ward) begin to grow closer. As with many of Williams' works, Night of the Iguana explores sexual desire and repression between various characters while not disregarding a sense of underlying humanity and compassion. Oscar-nominated screenwriter Anthony Veiller skillfully adapted this drama to the screen--his last credited project before his death in 1965.
Critic Reviews for The Night of the Iguana
Audience Reviews for The Night of the Iguana
½
The Night of the Iguana is adapted from a play by Tennessee Williams and directed by John Huston. That said, it's almost unnecessary to explain the combination of intense, believable and uninhibited drama and towering performances from all actors. We are told the story of Reverend Shannon, a clergyman gone astray, torn to the bone between his passions and his devotion, who has gone to conduct religious-themed tours across Pacific Mexico after a "spooky" episode during a sermon in his former church. During the tour, an overexcited young girl does her best to take him over the edge and he enters a feverish, almost insane state of mind; from this point on he is left to battle the ill influences of the rest of the tourists, takes refuge at a friend's bungalow complex in Puerto Vallarta, and comes across a world-wandering sketch artist and her poet grandfather.
The character of Shannon is played brilliantly by Richard Burton: an epic performance, one that flows effortlessly and empathetically from the wildest to the most peaceful states of mind. His portrayal of a man fighting his demons, slowly losing track of the limits between the "realistic" and the "fantastic" is perfect. Ava Gardner plays his hotel-owner friend, a smaller but fascinating role, also a collision of passion and frailty. In all truth, everyone, from Sue Lyon and her annoying squeals and Deborah Kerr's quietly dignified bohemian deliver solid work.
However, in spite of all this, the most remarkable aspect of The Night of the Iguana, aside from the lush cinematography and scenery, is the way in which so much emotional turmoil happens in such short episodes. Passion and despair overflow in every scene, in every word -the dialogue is brilliant, absolutely quotable-, all while the film itself, the shots even, are very closed and restrained. It feels as if the entire film is about to implode. I still have to look more into Huston's work but The Night of the Iguana is a remarkable film and completely recommended.
½
Great acting, great directing and great writing. You can't ask for much more in a drama. This is a lot different than most Southern centric Tennessee Williams plays, but it's actually a warm welcome to me. It just proves that a great writer can change settings and normal trends and still be effective. Richard Burton is at the top of his game, playing a tragic drunkard on the verge of madness. I also think Sue Lyon's performance is a great spin on hers from Lolita. While John Huston may be known for his action adventure movies, this is given just as much effort and skill.
Conner Rainwater
Super Reviewer
I loved this movie. It has this clammy, sweltering feel to it. Ava Gardner was beautiful in her role as the nervous and passionate Maxine. Richard Burton was just as entertaining as in Who's Afraid of Virginia Woolf. The movie is based on a play by Tennessee Williams, and perhaps because of that, the words and dialogs are superb (for me personally anyway). The characters of the three women are antagonistic and that's what makes it a joy to watch. Another plus: I thought the movie would be about a man lusting for different women, but that's not at all the direction it took!
The Night of the Iguana Quotes
There are no approved quotes yet for this movie.