Night of the Lepus
(1972)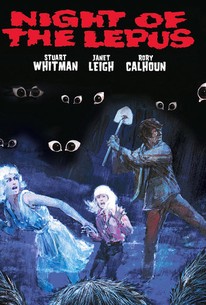 Night of the Lepus Photos
Movie Info
A hormone intended to control the breeding of rabbits has a catastrophic effect and transforms them into gigantic monsters, whilst scientists desperately work to combat the menace they have created in this horror thriller set in the Arizona desert.
Critic Reviews for Night of the Lepus
Audience Reviews for Night of the Lepus
½
I can't believe I only just heard about this movie. Needless to say, once I heard the plot I wanted to watch it immediately. Giant Killer Bunnies! And not some kind of mutated freaks, they are just large bunnies. The beauty of the film is how serious it all is. Here is a film that has complete faith in its premise. I wonder if the studio though it was going to be a comedy. After all, neither the trailers nor the posters show the large rabbits. Rabbit isn't used in the title either. No matter what though, this is a lovely film. It uses models perfectly, as the bunnies just run around looking gigantic. Their interactions with humans are less convincing. A man in a suit, which completely changes the size and physical attributes of a rabbit. There is some awful dialog, and bizarre moments which make no sense, but also a lot of great characters. At least the farmer and the scientist want to work together. Usually in a film like this there would be a pissing contest for control. A great bit of fun.
Luke Baldock
Super Reviewer
½
Bad acting, special effects, and story, but it's funny and amusing. It's so outrageous, the giant rabbits, it made me laugh.
½
Marion from Psycho and Bones from Star Trek fight a horde of ravenous giant rabbits in the American Southwest. The attack sequences consist mainly of slow-mo cutaways of blood covered rabbits hopping about on miniature sets. and that's not a bad thing. What's so great about this movie is it's commitment to it's ridiculous subject matter, and the "who gives a fuck what it looks like" attitude toward special effects. I'm so glad this movie exists. It's both a hoot and a holler!
Ken Stachnik
Super Reviewer
Night of the Lepus Quotes
There are no approved quotes yet for this movie.