Night of the Living Dead
(1990)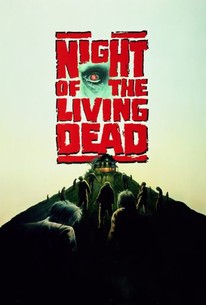 Night of the Living Dead Videos
Night of the Living Dead Photos
Movie Info
Makeup wizard Tom Savini's color remake of George A. Romero's 1968 classic follows the original almost shot-for-shot, so quality comparisons are somewhat pointless. The film was clearly made for younger viewers who refuse to watch black-and-white films, no matter how good they may be. The result is passable, but the very fact that the original was made 22 years before makes this version seem almost dated in its restraint. By the time of its release, Romero had already geometrically raised the gore quotient with Dawn of the Dead (1978) and Day of the Dead (1985), so Savini's starting back at square one further lessened the impact of this pointless retread. If this version has anything to offer, it is Patricia Tallman's engaging lead performance as a gun-toting independent woman, one of this film's few elements not lifted wholesale from Romero.
Critic Reviews for Night of the Living Dead
Audience Reviews for Night of the Living Dead
Mediocre remake of a zombie classic. There is nothing really to say about this remake aside that it is very much like the first, shot for shot, and doesn't do anything good whatsoever to try and break new ground where some remakes do, or at least try, this one doesn't. Sure it changes a few things around, but overall, it doesn't do anything thrilling that will appeal to the viewer. If you've seen the original, then there is no need in seeing this version. Directed by veteran horror special effects artist Tom Savini, this updated version of George Romero's classic film does feature well done special effects. But that's the only good thing about this film. This film relies way too much on the first film to create its tone, like I said it's shot for shot. Thus it becomes predictable, and uninteresting. The cast are decent, nothing ever good. However they don't make this film good or decent. Since this film is way too close to the source material to the original, it's clear that there was no other reason to remake the Romero classic to try and do something refreshing to the story. The only reason they remade the film was to make it for a new type of audience. This film simply doesn't do it for me, and I felt that it was quite unnecessary to remake it. Stick with the classic film, as you're not missing out on anything with this film. This film is just the same old carbon copy that we've seen such as Gus Van Sant's Psycho. Do yourself a favor and avoid this film.
½
Night of the Living Dead (1990), just like the original, have a very good screenplay, and show more action and scary moments with the special effects, Tom Savini's direction help, a lot too this fun remake from George A. Romero's 1968 classic. Fresh.
Lucas Martins
Super Reviewer
½
Reasonably good remake of the influencial original from '68. Manages to achieve the same atmosphere as the first and attempts to out-do it in terms of the gory content, which it just about manages despite it being cut to please the MPAA. The film also features some of the best looking Zombies ever to appear in the genre. It may be a pointless remake but still a solid little film.
Night of the Living Dead Quotes
| | |
| --- | --- |
| Johnnie: | Barbra! They're coming to get you! |
| Johnnie: | They're coming to get you, Barbara, there's one of them now! |