Night of the Living Dead
(2006)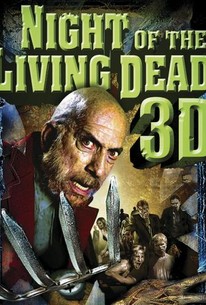 AUDIENCE SCORE
Critic Consensus: No consensus yet.
Night of the Living Dead Photos
Movie Info
In this 3D chiller, Barb and her brother Johnny arrive late for the burial of their aunt and walk straight into a nightmare. With zombies on her heels, Barb flees the cemetery and is rescued by Ben, a local college student. The two seek refuge in the nearby farmhouse of the Cooper Family, where the laid-back residents aren't remotely prepared to have their lives turn into a horror movie. But, Barb is destined for an even grimmer confrontation--with the dark secret of the pyrophobic mortician, Gerald Tovar Jr.
Critic Reviews for Night of the Living Dead
Audience Reviews for Night of the Living Dead
Remakes in the horror genre rarely matched the original and fewer surpass the original. Sure there are some great remakes like The Fly (1986) and The Thing (1982), but those are a selective few that make a small fraction of good horror remakes. How did this remake come about? The original film was never properly copyrighted, and so it has fallen into public domain, making this remake possible even with no permission from the original creators. Just like most remakes in this genre it failed to understand what made the original such a classic and what new spin it brings elevates no interest. Night of the Living Dead 3D follows a group of survivors trapped in a farmhouse battling a siege of undead zombies....pointlessly in 3D! To this film credit it's not a by the number remake departing from the original story. It hits some familiar plot beats like a group sheltering themselves from zombies in a house and Henry Cooper daughter turning into a zombie. On paper it has decent ideas, but in execution the story never comes to life. What changes it brings to the plot do nothing more than put you off guard without building tension. This film has a severe problem to either pad out scenes or stretch out long conversations needlessly to fill it's less than eighty minute running time. A large portion of the film is filler to the point that a non conflict between Barbara arguing with Cooper family whether or not to be taken to town to get help from the local authority takes up around twenty minutes. Long drawn out conversations make up a majority of the film it feels like it dialogue was written up on the spot. For example, Ben describes a zombie as "Being way the f*@k out there". This is (as of now) the worst description of a zombie anyone has ever given. Finally it introduces a last minute villain who appears in a significantly small portion of the film. Our villain in this remake has a flimsy explanation for how he made the dead come back to life (hint: it has something to do with fire). Everything in this remake is tediously drawn out with long conversations that lead nowhere, no sense of suspense or feel of danger, and cardboard cutout characters that label themselves who's going to die in which order. Acting and production leaves little to the imagination. When it comes to acting every single actor underplay their part. These are some of the calmest horror victims who even in a zombie attack have a cool attitude about death. For them it's just not another Apocalypse to the point that a naked women running to safety surrounded by zombie is nothing that generates interest. Direction is very incompetent unable to conceal it's low budget destroying immersion. It seems the director wanted to make sure the film you were watching is all fakery with outdated special effects. Using for short duration actual black and footage from the original "Night of the Living Dead" in a color film. Wide shots exposing the little extras the filmmakers could afford to play zombies. If you want to see zombie carnage you will be disappointed since the zombies mostly attack in groups of one or three. Also, the director pointlessly made this in non-dimensional 3D is the most unnoticeable addition to the film. You'll be asking did I need to see the title card and some guy smoking cigarette shoved in my face. This was clearly filmed to be a 2D film and the extra dimension is flat like the film quality hardly ever on sight. Night of the Living Dead 3D is like a zombie looking for something living to tear itself into. It has no entertainment value of any kind and even viewing it with a B movie mindset there's too much drawn out scenes and standard acting leaving little to like.
Caesar Mendez
Super Reviewer
The only worthwhile thing was Sid Haig's two minute cameo where he is beating the shit out of zombies with a shovel. It's another failed attempt to remake a classic that just cannot be done. Hopefully they will give up soon and stop torturing audiences.
Conner Rainwater
Super Reviewer
½
Trys to Rip off the original Night of the living dead buts sucks badly.
Chad Roesti
Super Reviewer
Night of the Living Dead Quotes
There are no approved quotes yet for this movie.