Night of the Living Dead 3D: Re-Animation
(2006)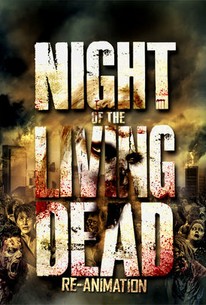 AUDIENCE SCORE
Critic Consensus: No consensus yet.
Movie Info
In this 3D prequel to the 2006 cult hit, pyrophobic mortician Gerald Tovar, Jr. inherits the family mortuary and accidentally exposes hundreds of uncremated bodies to toxic medical waste. As the corpses re-animate, Gerald's inheritance-seeking younger brother, Harold unexpectedly shows up and stumbles upon Gerald trying to keep the zombie outbreak under control. Sibling rivalry gives way to madness as Harold discovers Gerald's dark secret - the freshly exhumed and zombified corpse of their father.
Critic Reviews for Night of the Living Dead 3D: Re-Animation
There are no critic reviews yet for Night of the Living Dead 3D: Re-Animation. Keep checking Rotten Tomatoes for updates!
Audience Reviews for Night of the Living Dead 3D: Re-Animation
If it makes enough money chances are no matter how terrible a film is it has a chance to become a franchise. Unlike its predecessor this film is a unnecessary prequel not relying on source material of any classic film. It does match the quality of the first film entry which in the case of this series is not a good thing. Night of the Living Dead 3D: Re-Animation is about a pyrophobic mortician accidentally exposing hundreds of un-cremated bodies to toxic medical waste. This film sits under 90 minutes yet it still feels long and drawn out. Credit to the writers for spending over an hour developing the characters, but the plot is not set into motion until an hour in. By the time it reaches the zombie outbreak it's incredibly disjointed falling flat in every aspect of horror. Character development despite receiving an hour of it makes it impossible to gain an attachment towards any character. Explanations for what caused the dead to reanimate is the generic "the government did it" excuse. Conversations lead nowhere often reestablishing character background in some occasion more than three times meaning its characters remain static. Conversations serve no other purpose than to pad out the predictable fate of the heroes killing any level of suspense. Here too much talking kills tension, interest, and suspense simultaneously. Not to forget as a whole nothing much occurs in the film. We're told of what happened in the past, but see very little occurring in the present. From beginning to end it all feels like a rough draft for a film making bad decisions on every corner. It has its own ideas, but lack the proper narrative tools to solidly hold it together. Acting is mediocre on every front. Andrew Divoff is thankfully our lead and at least he exerts energy into a film where it's about as lively as the undead. Divoff performance is by no means any good woodenly deliver his lines, but his charisma is felt sparing the audience from another phoned in performance. So much in fact that he shoots 29 shotgun rounds without having to reload. Says a lot when even the filmmakers desperately keeps it best talent alive in a cast of uninspired actors. The make up are decent, but given the zombies appearance on screen last less than twenty minute one can't fully appreciate the effect. Shots are mostly far enough to see a clearly green screen background and rarely close enough to see the effects. Direction is uninspired, soulless, without a heartbeat, and so forth. The director present is not even felt; if you were to replace the film director with a ghost you would a more lively present behind the camera. Night of the Living Dead 3D: Re-Animation entertainment is non existent like its 3D effect. Spending too much time talking leading nowhere and building up to the zombie attacks becoming more disappointing it ends within minutes. Just like the undead this film loses anything that would resembles what was once human.
Caesar Mendez
Super Reviewer
Night of the Living Dead 3D: Re-Animation Quotes
There are no approved quotes yet for this movie.