Il portiere di notte (The Night Porter)
(1974)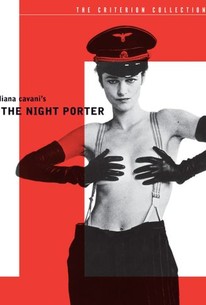 TOMATOMETER
AUDIENCE SCORE
Critic Consensus: The Night Porter's salaciousness gives its exploration of historical trauma a bitter aftertaste, but audiences seeking provocation are unlikely to forget the sting of this erotic drama.
Il portiere di notte (The Night Porter) Photos
Movie Info
The psychology of a sadomasochistic relationship between a former Nazi storm trooper and the concentration camp prisoner he loved provides the basis of this provocative, at times sexually and violently graphic drama. The story is set in the late '50s at a Viennese hotel that is owned by and plays host to former Nazis who get their kicks at the sadistic hands of the hotel porter, the ex-trooper. Most of them are facing trials for their war crimes, and all of them have taken care to get rid of any possible witnesses to their atrocities. The trooper too feels safe. His illusion is shattered when a woman and her husband check into the hotel and he recognizes her as the woman with whom he had a very kinky relationship in the concentration camp. They soon rekindle their painful relationship and episodes from their past and present are graphically depicted. They remain heedless of the attempts of the other guests to stop their twisted affair.
News & Interviews for Il portiere di notte (The Night Porter)
Critic Reviews for Il portiere di notte (The Night Porter)
Audience Reviews for Il portiere di notte (The Night Porter)
½
There's a lot wrong with The Night Porter it's a sickening film, and not because of what it shows, but the inexplicable exploitation of the holocaust. Before I say why I don't consider this "art" by any means, I'll start with some technical problems. The acting was stiff and unattractive, the visuals were never intriguing, and dark visuals can sometimes be the greatest. The plot is based is based to much on coincidence. And worst of all this makes no attempt to create a German concentration camp worker, or someone who has suffered through this. I didn't detect any accents, any physical signs, it's just lazy garbage. And now I'm pretty lenient in what I consider wrong to exploit for a film, or even caring about a directors personal actions. I love Polanski and Lars Von Trier "I'm a nazi moment" was one of the funniest things I've ever seen. But to turn holocaust victims into Nazi d**k cravers, who just all happen to becomes obsessed with the world of BDSM, is not a subject that should be looked at as legit. It loses all potential meaning due to its craving for controversy. It's far from anything meaningful, a picture to be missed, unless you're into some over the top kinkiness. Liliani Cavini is scum.
Daniel Dolgin
Super Reviewer
½
For a movie about a kinky romance between an ex-Nazi and his former prisoner, "The Night Porter" is bewilderingly dull. A full 50 minutes pass before the two principals meet, and even after they do, there are only fleeting glimpses of the sexual electricity that the film's reputation suggests. The setting is Vienna, 12 years after World War II. Max (Dirk Bogarde, typically uncomfortable and repressed) is a semi-reformed Nazi who posed as a wartime doctor in order to exploit beautiful prisoners such as Lucia (Charlotte Rampling, and her incredible sea-green eyes). Now he's the anonymous concierge at a posh hotel, improbably speaking perfect English. A matured Lucia, the elegant wife of an orchestra conductor, comes to stay at the hotel by chance. The two instantly recognize each other and soon can't resist resuming their past submissive/dominant relationship. Meanwhile, Max is in touch with some other ex-Nazis who steadily conspire to bury all evidence of their shared history. Naturally, they are concerned when Max toils to keep his eyewitness lover from being silenced. Bogarde and Rampling are masterful in difficult roles that not only explore controversial subjects but require ample acting through behavior and facial expression alone. Unfortunately, the many wordless minutes also mean the film is quite slow-paced. And sorry, there isn't much flashy sadomasochism in this dour tale -- the most shocking moment is probably just a foreplay shot where Max purposely grinds his bare foot into some broken glass. We do get the unexpected pleasure of eloquent ballet choreography (credit Italian dancer Amedeo Amodio), along with a topless torch song from Rampling that will make jaws drop and pulses race. Interestingly, Bogarde and Rampling also appeared in "The Damned," an earlier Italian film with a Nazi theme.
Eric Broome
Super Reviewer
½
If I assembled a list of my favorite sadomasochistic Nazi co-dependency films made prior to 1975 that featured topless dancers is SS uniforms, this would definitely be in the top five.
Randy Tippy
Super Reviewer
Il portiere di notte (The Night Porter) Quotes
There are no approved quotes yet for this movie.