Night School
(2018)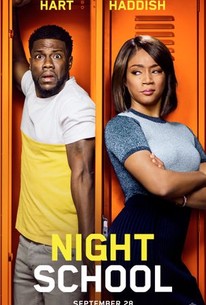 TOMATOMETER
AUDIENCE SCORE
Critic Consensus: Night School's funny stars and seemingly promising setup add up to a disappointingly scattershot comedy whose laughs are largely held in detention.
Movie Info
Star Kevin Hart and producer Will Packer, who partnered for the hit Ride Along and Think Like a Man series, bring their signature style to Night School. The comedy from director Malcolm D. Lee (Girls Trip) follows a group of misfits who are forced to attend adult classes in the longshot chance they'll pass the GED exam.
News & Interviews for Night School
Critic Reviews for Night School
Audience Reviews for Night School
At this point I question if thereï¿ 1/2(TM)s even a point to me sitting down and taking time out of my day to write a review of a new Kevin Hart movie. I mean, unless Hart decides to work outside his comfort zone with a director that might challenge him or unless heï¿ 1/2(TM)s part of an ensemble cast one pretty much knows what theyï¿ 1/2(TM)re getting from a Kevin Hart comedy, right? And given Night School is the first production to be released under Hartï¿ 1/2(TM)s own production company though, one can safely assume that if this is successful-which all signs point to why wouldnï¿ 1/2(TM)t it be?-that the general viewing public can expect more of these same, middle-of-the-road comedies with recycled premises and recycled jokes that hold Hart at the center as a character who must overcome something in order to realize something about himself...while being made fun of for being short, of course. That said, I appreciate and kind of admire Hart for always willing to be the brunt of the joke and despite Night School being a rather large missed opportunity given it pairs the immensely charming and infinitely likable Hart with Girls Trip breakout Tiffany Haddish and her director on that film, Malcolm D. Lee (whoï¿ 1/2(TM)s also made The Best Man films and the most recent Barbershop picture), there is still enough here for it to qualify as an entertaining time at the movies. No, thatï¿ 1/2(TM)s not necessarily a ringing endorsement, but it does mean this doesnï¿ 1/2(TM)t feel wholly like a cheap, quickly manufactured product with little effort put in and therefore little expectations held for it. In fact, itï¿ 1/2(TM)s actually the opposite in that itï¿ 1/2(TM)s not hard to see Hart, his co-stars, and his company are genuinely trying to make something with, well...heart. Does this mean it actually holds some weight? Not really and it isnï¿ 1/2(TM)t as consistently funny as it should be given the stars of the film, but this is a rare comedy that doesnï¿ 1/2(TM)t have an ugly side to it. Itï¿ 1/2(TM)s an optimistic comedy, if you will, whereas the majority of big studio comedies tend to be both cynical with egotistical, snarky leads Night School sets itself apart from the pack if not for being the funniest of the year, but for holding out the most hope in humanity and seeing the good in the resilience of the human spirit. Not exactly an easy thing to do these days. read the whole review at www.reviewsfromabed.com
Philip Price
Super Reviewer
Night School Quotes
There are no approved quotes yet for this movie.