Night Skies
(2007)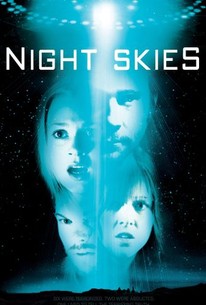 AUDIENCE SCORE
Critic Consensus: No consensus yet.
Movie Info
On March 13th, 1997 one of the largest UFO sightings ever recorded took place across the southwestern United States. The event became known as the 'Phoenix Lights' and was witnessed by community leaders, members of law enforcement, as well as thousands of everyday citizens. This true story, based on transcripts from actual hypnosis-therapy sessions, finally reveals what happened after the infamous incident ended and how six people, stranded by chance on a forgotten road, encountered more than just lights in the sky.
Critic Reviews for Night Skies
Audience Reviews for Night Skies
½
This movie is meant to make you think. Yet, how come it made you not want to watch it after the first Boring-Thirty Minutes? I liked it sense of dependency on the UFO lovers, but it didn't really reach out to the Mainstream audiences, in which most films are apreciated. I can honestly say, I am a part UFO Fanatic, But I am not obsessed. I also relatively, yet tradgicly enjoyed this film's failed attempt at being the next "Close Encounters". It was a big upset. If you Understood it's poorly and Drool way of explaining it's plot points and the true, yet the oddly enough events that occured On March 13, 1997. To claim these testomonies, and tales of these people is hard to say, yet Honestly to Refute the "Phoenix Lights"? I have no reason, Do you.?
Joseph Eastmond
Super Reviewer
½
As much as I hate to admit it, aliens creep me the fuck out. It's probably the simplistic form they usually take, their silence, and yet knowing how intelligent they are. Even a low budget, shoddily acted bit of hokum like Night Skies, has enough to unsettle me for the most part. A lot of it is in the amateur leagues, but the director certainly has an eye for sticking stuff in the background. It gets even creepier when we see things that the characters don't. It's a shame that there's such a bombastic musical score to ruin a lot of the intensity. It's tolerable when it keeps itself simple, but when it goes aliens overboard it loses the mystery.
Luke Baldock
Super Reviewer
½
I have a bit of a soft spot for low-budget alien abduction features, and can forgive almost any problems that arise because of the budgetary limitations. This, however, cannot be said for Night Skies. It wasn't so much the budget, but the lame-ass script and sad (lack of?) direction that sank this one for me. Don't waste your time or money - see Altered instead.
Night Skies Quotes
There are no approved quotes yet for this movie.