Night Terror
(1976)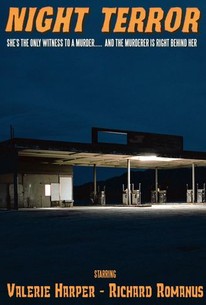 AUDIENCE SCORE
Critic Consensus: No consensus yet.
Movie Info
In this made-for-television thriller, a beautiful young woman is driving home on the freeway late one night and inadvertently witnesses the murder of a police officer. Soon afterward, she finds herself pursued by the crazed killer.
Critic Reviews for Night Terror
All Critics (2) | Fresh (1) | Rotten (1)
The movie was directed by television vet E.W. Swackhamer contains a handful of terrifying moments, but the real reason to watch is the see Valerie Harper and Richard Romanus go head to head.
The slight story might work for television, but as a movie it doesn't come close to channeling Spielberg's similar themed legendary made-for-TV brainchild Duel.
Audience Reviews for Night Terror
Regular TV movie fodder from the 70's. Nothing special.
½
An dated, cheesy but atmosheric and somewhat suspenseful 1977 made for television thriller that has a great concept going for it but the way it was delivered was just not thrilling enough. The acting wasn't the best but the camera is definitely in love with Valerie Harper who plays Carol Turner a mother of two who's family is moving to Denver, Colorado from California and the kids fly there early with grandma as the father works late and she finishes packing and stays at an hotel waiting for her husband to finish work. She gets a phone call late at night saying that her son is in the hospital and in a frantic rush she decides to drive there herself a 16 hour drive after she can't reach her husband and her flight is snow bound. She soon runs out of gas and sees a cop that pulled someone over she slows down to ask for help and the man who was pulled over pulls out a gun and shoots the policeman and she speeds in terror and the getaway for survival begins. Compared to television movies of today which mostly suck this one is halfway acceptable and decent but goes in the typical television path which is playing it safe but hollywood could make a good remake out of it hell they remade the television movie of 1973 Don't Be Afraid Of The Dark why not this as well. 5.6 out of 10
Matt Slash
Super Reviewer
Night Terror Quotes
There are no approved quotes yet for this movie.