The Night They Raided Minsky's (The Night They Invented Striptease)
(1968)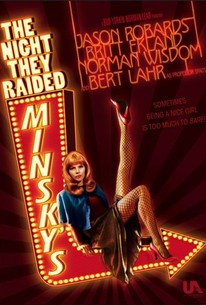 Movie Info
Rachel (Britt Ekland) is an Amish girl who rejects her religious upbringing and travels to the big city. She meets Raymond Paine (Jason Robards) and Billy Minsky (Elliot Gould) who put her on stage. A sensual striptease emerges from what was supposed to be a religious dance, eventually causing the cops to bust the place. Soon her father comes after his daughter who by now is coveted by gangsters. Forrest Tucker plays gangster Trim Houlihan, the quick-tempered Irishman. The film accurately reflects the mood of the burlesque halls which had died out by the time the feature was released. Veteran comic Burt Lahr, one of the last true burlesque and vaudeville performers, makes his last film appearance as Professor Spats. British comedian Norman Wisdom steals the show in his role as Chick Williams. Rudy Valee, the top crooning heartthrob of the 1920s, narrates and sings a few songs. The surviving Minsky brother Morton acted as technical advisor for this song and dance filled slice of Americana. Burlesque had all but died out by the time the film was release, and this feature accurately recalls the bygone era that started before talking pictures and even radio were mainstream items.
Critic Reviews for The Night They Raided Minsky's (The Night They Invented Striptease)
Audience Reviews for The Night They Raided Minsky's (The Night They Invented Striptease)
Fizzes and crackles with energy, but it's not without gravitas. Great fun!
Marcus Woolcott
Super Reviewer
A very lovingly made homage to both vaudeville and burlesque. Not overly glamorized into the typical slapsticky chuckle-fest that you might expect. While there is some of THAT...there is also a bit of the seedy and slightly dark underbelly of "the business" thrown into the mis, but done so in a way that doesn't make it feel gratuitous. The acting is good, especially Britt Ekland who gives a GREAT performance. Some of the cinematograpy and editing are genious and the costumes and set designs are SPOT ON. All of these things REALLY serve to convey the look and feel of the era and make what could easily have been just another rambunctious romp through the "Roaring 20's" look and feel (at times) more like archival footage brought to life.
The Night They Raided Minsky's (The Night They Invented Striptease) Quotes
There are no approved quotes yet for this movie.