Night Train to Munich
(1940)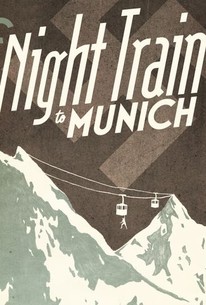 Night Train to Munich Photos
Movie Info
Based on the book Report on a Fugitive by Gordon Wellesley, this is an espionage film that has been stated by critics to possibly be among the top ten spy movies ever made. Replete with intrigue and suspense, the movie has all of the principles on a train as a scientist's daughter joins forces with Allied intelligence in a rescue effort involving top secrets. This movie, made just prior to WWII, gave a more temperate view of the Nazis than later movies.
News & Interviews for Night Train to Munich
Critic Reviews for Night Train to Munich
Audience Reviews for Night Train to Munich
It's cross and doublecross in the days immediately preceding WW2 as a scientist and his pretty daughter become the pawns between two competing countries. Paul Henreid is smoothly excellent as the savvy and smooth rep for the Axis Powers, nearly unbeatable. And Rex Harrison is the guy for the Allies, w/o a prayer to go on. Carol Reed paces the thing like a ride down a ski slope, going faster and faster ... I actually liked this better than the ballyhooed The Lady Vanishes, to which it's often compared. And the veddy English team of Radford and Wayne veddy nearly steal the whole thing outright.
Kevin M. Williams
Super Reviewer
½
A bit methodical in its presentation but still a classic rendering of intrigue and high drama. Rex Harrison and Paul Henreid are superb!
Randy Tippy
Super Reviewer
Night Train to Munich has its moments but its generally pretty dull. Margaret Lockwood helped keep me interested but outside of the nifty miniature-based finale, the comic relief and the irony of seeing Victor Laszlo play a Nazi, I wasn't exactly enthralled. Night Train to Munich isn't exactly awful but I can't for the life of my figure out why there's a Criterion edition of this.
Michael Gildea
Super Reviewer
Night Train to Munich Quotes
There are no approved quotes yet for this movie.