Nightbreed
(1990)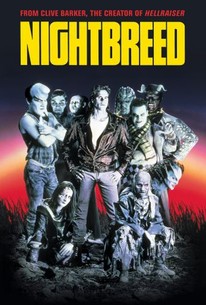 Movie Info
Multimedia horror maven Clive Barker followed the success of his feature directorial debut, Hellraiser, with this equally surreal effort, based on his novella Cabal. The story involves the plight of Aaron Boone (Craig Sheffer), a young man tormented by visions of monstrous, graveyard-dwelling creatures. Seeking the aid of his clinically cold therapist Dr. Decker (played by Canadian horror auteur David Cronenberg) in deciphering his nightmares, Boone becomes convinced that his frequent blackouts are linked to a recent spate of mutilation murders in the area. His frantic search for the truth leads him to the subterranean city of Midian, the dwelling place of a mythical race of undead nocturnal monsters known as the "Nightbreed." But it is only after he is cornered and shot dead by police that Boone's real journey begins -- he finds himself resurrected as one of the Breed. Though Barker's unique and graphic vision is somewhat blunted by choppy editing (thanks to relentless tampering from the studio), this is nevertheless a fine sophomore project from a talented storyteller; the central conceit of presenting the monsters as the "good guys" -- at least compared to the gun-and-bible-toting lunatics who hunt them -- is handled with verve and originality. ~ Cavett Binion, Rovi
News & Interviews for Nightbreed
Critic Reviews for Nightbreed
Audience Reviews for Nightbreed
A very interesting story is marred by clumsy execution. Clive Barker is working with one of his original stories but he doesn't have strong enough experience as a director yet to pull off the complex high wire act this film needs to make it work. He's too in love with his monsters making them a bit too cartoonish, his characters are not portrayed strong enough to pull off the sometimes-clumsy dialogue. Main characters Boone and Lori are too broadly drawn and Craig Sheffer and Anne Bobby can't add any depth to them in time to rescue the film. But at its core 'Nightbreed" is quite arresting. The story is quite insightful about human nature and the real monsters in the world. "Nightbreed" is ambitious but falls a bit short of Clive Barker's genius story potential due to clunky execution.
Tony Gandía
Super Reviewer
Full marks for great monster makeup and a story that is excellently cheesy and pointless.
Curtis Lilly
Super Reviewer
½
Cool film title, much better than the original novel title of 'Cabal', guess 'Morgan Creek' was right on that little change. Unfortunately this film was one of those productions that suffered from heavy interference from the studio and thusly ended up being nothing like it was intended. I can't even place what 'Nightbreed' is suppose to be really, a kind of horror, thriller, fantasy or translation...'Beetlejuice' with blood. Yes it is! this film is basically a grown up nasty version of 'Beetlejuice' with Danny Elfman doing the score even!. The plot makes no sense whatsoever frankly, no real point behind it, no real motivations, explanations or reasons. Basically a diverse race of monsters that live below an ancient graveyard called 'Nightbreed'. Some young guy wants to join them and errr ends up helping them fight against the nasty humans that wanna destroy the city of 'Midian', the city of monsters. Read between the lines there...the plot is saying we the regular folk are the real monsters, not the actual monsters. Not exactly an original concept huh. This film is really quite odd. Chock full of bizarre creatures of the night, most of which look utterly stupid and not a tall scary. The effects are of course dated but makeup and prosthetic work is in good form with heavy hands on work, plenty of blood and some interesting gore, no CGI here folks. The problem being that most of the creature ideas are pretty daft looking, like a collection of cartoon characters. For example there is a female creature that seems to be a humanoid porcupine? eh?? and a male humanoid with a head shaped like the crescent moon for some reason. Casting is just as unique to be truthful. Oddball character actor and usual badguy Craig Sheffer is the young hero here, he fits the bill perfectly really with his strange features. In for the ride is Cronenberg as a psycho trying to destroy the 'Nightbreed' race. Again he fits this film perfectly as the guy himself is pretty eerie and odd with his calm pleasant unsuspecting manner. Its his eyes that do it. The film is known as a huge cult and you can see why. Clearly a lot of work was put in with monster designs, sets, makeup and matte work but the whole thing is just so damn surreal and without real reason that you lose interest. The monsters aren't scary and neither is the attempted creepy location/set work and atmosphere, but you do get the odd moment of nasty gore, so where do you stand?. The wonderful familiar musical score from Elfman lures you into thinking your watching a fantasy film for teens, something like 'Legend' mixed with 'Batman Returns' with the weird undead creatures from 'Beetlejuice'. Some lovely visuals throughout and some terrific imagination but its all wasted on a poor plot and overall badly edited film. You get the feeling this really could/should of been a classic epic horror fantasy, the foundations are there but it just hasn't been constructed correctly.
Phil Hubbs
Super Reviewer
Nightbreed Quotes
There are no approved quotes yet for this movie.