Nightmare Man
(2006)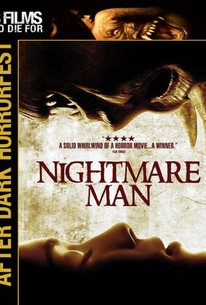 Movie Info
A murderous figure in a demonic mask stalks a woman from her dreams before materializing in the real world to do some bloody damage in director Rolfe Kanefsky's nocturnal tale of night terror. Unsuccessful despite multiple attempts to conceive, Ellen (Blythe Metz) and her husband, Bill (Luciano Szafir), order a mask said to represent the God of Fertility. Unfortunately, their hope for a child is soon snuffed out when a demonic figure sporting the very same mask begins to pursue Ellen in her dreams. Increasingly disturbed by his wife's hysterical paranoia, Bill secures a room for his troubled wife at a nearby mental health facility. When Ellen and Bill's car breaks down in the woods en route to the hospital and the menacing figure from Ellen's nightmares emerges from the darkened trees, a retreat to a nearby cabin where Mia (Tiffany Shepis) is hosting a party with a collection of close friends sets the stage for a blood-soaked murder rampage that may or may not be the doing of a supernaturally charged killer.
News & Interviews for Nightmare Man
Critic Reviews for Nightmare Man
Audience Reviews for Nightmare Man
½
"What did he do to you??" "The same thing he's going to do to you if you don't leave very soon!" "No - the police and your husband are on their way, it's just safer to stay right here." "You're wrong!" "Look, I'm actually getting a little sick and tired of all your negativity!" Surprisingly good little horror cheapie that offers a few genuine jolts and surprises, and then turns all hell loose with echoes of Evil Dead during the final 20 minutes. There is a big, and I mean BIG, drawback that holds its rating down - this thing is the DARKEST film I've ever seen. As in, many times the camera will point somewhere...and you can't see anything! And good luck following the chases and struggles. As a cheapie, pretty clear they decided to save on lights as everything appears to be lit naturally, which wouldn't be a problem if the whole thing didn't take place AT NIGHT. I didn't check the credits but I'm assuming they didn't need to hire any grips, maybe there's a "lightswitch flicking guy." The only film that could get any darker is the inevitable biopic of the Chilean miners shot from their POV. Much of the acting is pretty bad, but in a good way for this kind of movie. The characters mostly take intelligent actions when aware of danger, except for one laughable bit when Jack assures a man on the phone they won't leave a strange, raving woman alone, then immediately clears the room leaving her alone in the next scene! Standing head & shoulders above the rest of the cast is total pro Tiffany Shepis who effortlessly steals the spotlight (ehh, bad choice of words in conjunction with this film) with her no-nonsense attitude & sexy behavior. Within minutes of meeting her, she's stripped down to her underwear and pulls a giant crossbow out of the closet to investigate sounds heard outdoors. If the film could have kept up this level of inspired awesomeness, they would have a mini-classic on their hands. As such, it's about 20 times better than I expected, I just wish I could've seen more of it.
Doctor Strangeblog
Super Reviewer
½
Nightmare man is another in the 8 films to die for series that started coming out a few years ago at the end of each year this one follows the story of a wife that is given a mysterious mask one day and later comes to believe she was somehow attacked by a evil spirit known as the nightmare man her husband of course thinks she is crazy and on the way to the mental hospital there car breaks down leaving his wife all alone he goes in search for gas thats when the nightmare man appears real or fake she takes off into the woods where she stumbled upon a group of friends in a cabin and they are all now in danger, I usually give any of the 8 filmes to die for a chance just like i did this one but it had very little good goin for it and alot of bad which started with the acting being so cheesy watch at your own risk.
½
This is from the 2008 Eight Films to Die for collection. Not a bad movie, kind of guessed who was trying to kill the insane girl, pretty easy plot. Great Slasher shots. Its the 2nd in the series of eight that I have watched and its better then the first film I watched, does that make sense, guess not. But its worth watching.
Bruce Bruce
Super Reviewer
Nightmare Man Quotes
There are no approved quotes yet for this movie.