Nightmares
(1983)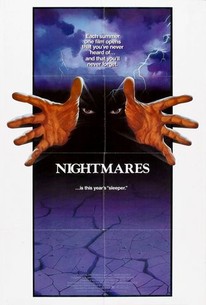 Movie Info
Divided into four separate independent films originally made as a television pilot, Nightmares begins with "Terror in Topanga," a story about a young woman who goes out one night to buy a pack of cigarettes, knowing full well that the infamous "canyon killer" is on the loose -- and sure enough, a subtly menacing store clerk (Anthony James) begins to loom large in the woman's journey. The second story, "Bishop of Battle" is a sequence with animation that details the saga of a video games champion who comes up against a supernatural opponent. The next vignette, "The Benediction" is about a priest who gives up on his faith and takes off down the highway, only to be confronted with a demonic minivan and good reasons for remaining a believer. The last story, "Night of the Rat" has the rodent that ate Manhattan looming large over the home of a young couple, but never fear, the husband is blasé enough to handle anything, or so he thinks. As might be expected, the low-budget production and facetious scripting of a few of these sequences work against the intended scary effect of the stories.
Critic Reviews for Nightmares
Audience Reviews for Nightmares
Nightmares is a well constructed anthology horror film that is very well acted and directed by Joseph Sargent. The stories are pretty entertaining and are fairly creepy in their tone and atmosphere. This is a far different anthology than Creepshow and it works well enough to keep the horror viewer entertained throughout due to its very good stories and immaculate directing. Some stories are a bit too short, and I think that the second one in particular could have been longer as I felt; there was a lot to offer. However despite this, this is a good film that ranks up there among the best horror anthologies. Like I said, this could have been a better movie, and it had the potential of being a memorable feature, but it offers only good entertainment that had plenty of potential to overcome its weaknesses. The stories are good, but there are things that could have been improved upon. However for what it is, this is a worthwhile anthology that is better than say Tales from the Darkside: The Movie, and follows the string of anthology films that has graced the genre of the 1980's. Of course Creepshow is a far better film, but Nightmares still gives you a great time for its hour and a half runtime despite its slightly underdeveloped ideas. You can just imagine how good this one could have been if the script would have been rewritten a few times. This is a film worth seeing for what it is, and it does manage to be quite good even if it is not memorable in the long run.
I saw most of this on TV one day a long time ago, I got to see the great part with Emilio Estevez and the video arcade! It was so cool, but I want to see the rest of the movie!
½
Pretty much a hot chick quits smoking, Emilio Estevez gets abducted by a video game, Lance Hendrixson kills satans truck with holy water and a family gets terrorized by the demon rodent. A lot like outer limits. Pretty fun.
Curtis Lilly
Super Reviewer
Nightmares Quotes
There are no approved quotes yet for this movie.