Nikki, Wild Dog of the North
(1961)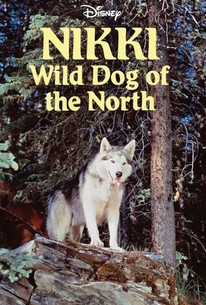 AUDIENCE SCORE
Critic Consensus: No consensus yet.
Nikki, Wild Dog of the North Photos
Movie Info
Andre Dupas (Jean Coutu) and his malamute Nikki earn a living as trappers in the blue Canadian Rockies. When a young bear is orphaned, Nikki takes a protective liking to the cub. Dupas leashes the two together as the trio travels by canoe down the river. A capsizes canoe causes Nikki and the cub Neewa to be washed ashore, separated from the trapper. Sleeping proves difficult as Neewa prefers trees and Nikki likes the ground. The leash finally breaks as Neewa hibernates for the winter. Nikki is captured by the evil trapper Lebeau (Emile Genest) and is mistreated in order to make him a fighting dog. Nikki and Dupas are reunited. This Disney production filmed the action in two languages, French and English.
Critic Reviews for Nikki, Wild Dog of the North
There are no critic reviews yet for Nikki, Wild Dog of the North. Keep checking Rotten Tomatoes for updates!
Audience Reviews for Nikki, Wild Dog of the North
This is one of the Old School Disney Movies, not sure the child of the 21 Century would be able to sit down and watch this, But I did as a child it held my interest then and it still holds my interest today. first off its a rare find if you find it on DVD and if you do please let me know where as I can't seem to get a copy. In this film Nikki gets lost with a bear cub and they try to find there owner, but the bear cub goes his way as Nikki goes on.If you have never seen this movie you will see animals do things that had to take months to capture on film, This is a real Walt Disney film, unlike the films of this day and age wiith the name Disney on them, Walt is turning in his grave. If you have children you should exposed them to this film and see there reaction. Its 5 stars all the way.
Bruce Bruce
Super Reviewer
Nikki, Wild Dog of the North Quotes
There are no approved quotes yet for this movie.