Nil by Mouth
(1998)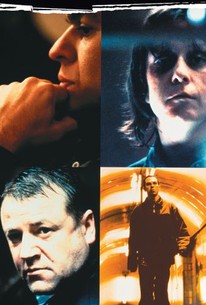 TOMATOMETER
AUDIENCE SCORE
Critic Consensus: Foul-mouthed and unrelentingly bleak, Nil By Mouth is a prickly viewing experience that nevertheless impresses with its authentic blue collar angst and ferocious performances.
Movie Info
Gary Oldman returned to his East London roots with this semi-autobiographical drama of domestic violence and alcoholism. Kathy Burke received the 1997 Cannes Best Actress award. Music by Eric Clapton. Produced by Oldman, Luc Besson (The Fifth Element), and Douglas Urbanski.
News & Interviews for Nil by Mouth
Critic Reviews for Nil by Mouth
Audience Reviews for Nil by Mouth
'Nil By Mouth' is a potent, relentless dose of real life; a portrait of the dead-end cycle of violence, abuse, addiction and poverty that occurs in cities all over the world. Though a trifle convoluted (there are a few scenes that contribute little or nothing to the film), it is a genuinely moving, visceral experience. Don't be mistaken, this is not another trashy British gangster flick, far from it. Ray Winstone(Ray) and Kathy Burke (Valerie) are both tremendous, their performances stop the film from descending into the realm of 'The Football Factory' or 'Rise of the Footsoldier'. It's also the script that distinguishes it from such films which, on face value, appear comparable. The script has ample profanity, and I really mean ample, it's the most profane film I've ever seen, but it also has segments of real poignancy. Burke and Winstone interpreted the script perfectly. Winstone's performance is unsettlingly convincing; some may say he's one-dimensional, but he really is a rather good actor. It is Kathy Burke's moments that are the most moving, chiefly a scene where she desperately tells a white-lie: it's genuinely upsetting. The film is rightfully spared of romanticism, it's completely devoid of poetic licence, what you see is pure, candid realism. Ironically, the film isn't pure at all, it's gritty and unrestrained in its depiction of violence and vulgarity; one moment being particularly horrifying. To criticise the film for being 'unfocused' is missing the point. To me, it was an almost non- linear insight into the human condition, a film woven from the personal experiences of Gary Oldman and delivered with the utmost conviction from Burke, Winstone and indeed the whole cast.
Jack Hawkins
Super Reviewer
Dark and violent but packed with unflinching honesty and grit.
Randy Tippy
Super Reviewer
½
The words "gritty", "British" and "drama" usually and rightfully condemn a film to the Guy "Windsor" Ritchie hall of excrement . Having seen these terms applied to Oscar contenders like "Goodbye Charlie Bright", "Rancid aluminium" and "Love, honour and obey", I wasn't really expecting much from this film. Saying I was wrong would be a huge understatement. "Nil by Mouth" is an awesome achievement. A razor sharp dissection of a working class south London family that delivers the required punch on so many levels that you need to have a wash after watching it. It covers a vast spectrum of emotions that will see you (especially if you're British) laugh, cry and more often than not, hold your head in despair at witnessing an all too true account of what it is to be at the bottom of the British class system. It is unflinchingly brutal and somewhat depressing, yet at the same time shows how with guts, determination and a healthy sense of humour, people can survive even the most bleak and hopeless of situations. Kathy Burke is outstanding and Ray Winstone is dependable as ever, but Gary Oldman's screenplay and direction are the stars of the show. This script could stand on it's own as a fine social commentary on par, and not dissimilar from John King's "The Football Factory" and "Headhunters". Thankfully Oldman has also realised that in terms of direction, "gritty" does not have to mean the static, cold and quite frankly boring as hell style that so many British films have. The camera moves with a documentary feel energy, yet the slick cinematography keeps it from ever looking cheap. Quite simply one of the greatest British films of all time.
Cassandra Maples
Super Reviewer
Nil by Mouth Quotes
There are no approved quotes yet for this movie.