Nina Takes a Lover
(1995)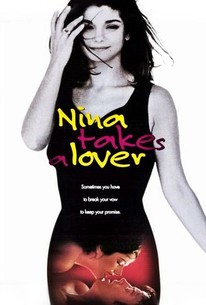 Nina Takes a Lover Photos
Movie Info
Nina (Laura San Giacomo), a young married woman, has an affair with a British photographer in this low-key comedy drama about adultery and romantic role-playing. Nina Takes a Lover, the debut film of writer-director Alan Jacobs, tells its story in flashback, as Nina is interviewed by a journalist who is writing an article on modern marriage -- or, more specifically, modern infidelity. The affair begins after Nina's husband has left for a long business trip, leaving Nina lonely, depressed, and seriously doubting his faithfulness. In this vulnerable state, she meets a stranger in the park. He's from Wales, he's a photographer, and he's quite handsome. Encouraged by the experience of her best friend, who has been unfaithful to her husband for some time now, Nina begins an affair with the photographer. She finds the experience a wonderful, revitalizing thrill and is soon considering leaving her husband to move in with her new lover. However, Nina's feelings become more complicated when she discovers some of her lover's hidden secrets. While on the surface the film is a rather uneventful, performance-driven character study, Nina's story in fact builds toward a surprising revelation, one that casts an entirely new light on the nature of her affair.
Critic Reviews for Nina Takes a Lover
All Critics (6) | Top Critics (2) | Fresh (3) | Rotten (3) | DVD (2)
When the movie was over, I felt vaguely empty and cheated. I liked the acting, I admired a lot of the dialogue, and the movie looks good. Maybe I liked it enough to think these characters deserved more.

Audience Reviews for Nina Takes a Lover
This is one of my all-time favorites. Haven't seen it in years.
Nina Takes a Lover Quotes
There are no approved quotes yet for this movie.