The Nine Lives of Fritz the Cat
(1974)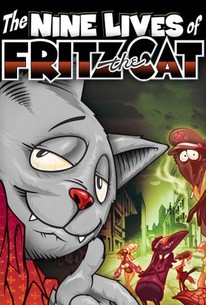 The Nine Lives of Fritz the Cat Photos
Movie Info
Robert Crumb's randy cartoon cat comes to life for the second time in this adult-oriented animated feature. This time the dope-smoking tomcat is saddled with a cranky wife and is dependent upon welfare for drug money. Finding life nowhere nearly as fun as it was in the first film, he spends most of his time pining for his other eight lives. So begins a series of flashback fantasies. Though many of the scenes have strong erotic content, this film is not as racy as the X-rated original. For the record, neither Crumb nor the animator of the original feature Ralph Bakshi had anything to do with this film.
Critic Reviews for The Nine Lives of Fritz the Cat
Audience Reviews for The Nine Lives of Fritz the Cat
The story isn't good, but it's interesting. This one isn't as good as the first by any means, but if you loved the first one, this one will be somewhat enjoyable anyway.
I watched this puppy baked last night. I felt like the loser at a game of chicken, daring each scene to be more twisted and vile then the last, and being ultimately pulled down and run over by a movie that actually dared to go farther then me. Put this 70's blaxploitation, hitler, porno, acid-fest cartoon on the shelf between Meet The Feebles and Story Of Ricky. This movie has all the things to needed to be great after a bong session including an unfollowable plot, and deja vy. Put this genuinely bizarre freakshow of a movie on for someone who's never seen it and tell them that it's Fear And Loathing In Las Vegas. As is this movie is equally neuroticly addictive. If you enjoy way way off beat humor that's just on the border line of a buzz killer bad bake find this. Some might view it as racist (which it probably is) but we all need to laugh at ourselves. The less you know about this movie the better it will be baked. Kind of reminds me of a cartoon version of Street Trash.
Cassandra Maples
Super Reviewer
The Nine Lives of Fritz the Cat Quotes
There are no approved quotes yet for this movie.