Nine Months
(1995)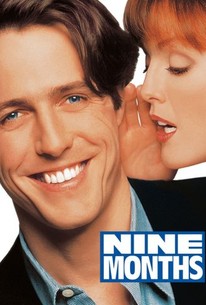 TOMATOMETER
AUDIENCE SCORE
Critic Consensus: Nine Months finds writer-director Chris Columbus playing to his worst comedic instincts -- and relying far too heavily on the trademark tics of his miscast leading man.
Movie Info
A single man faces the terrifying prospect of seeing his carefree life dashed by a visit from the stork in this comedy. Samuel Falkner (Hugh Grant) is a child psychiatrist who has no kids of his own and doesn't want any, which leaves him a bit shaken when his girlfriend of five years, Rebecca Taylor (Julianne Moore) announces that she's pregnant. Suddenly, Samuel is plagued by paranoid fantasies about how marriage and fatherhood will change his life, which are not at all soothed by frequent visits from Rebecca's chronically-pregnant friend Gail Dwyer (Joan Cusack) and her half-bright lummox of a husband, Marty (Tom Arnold). Too selfish to deal with Rebecca's needs, Samuel parts company with her and takes a last stab at playing the field, but when he sees an ultrasound of his soon-to-be-born son, he decides that it's time to face his responsibilities before it's too late. Nine Months also features Robin Williams in a small role as Dr. Kosevich, an ob-gyn with a weak grasp of the English language.
Critic Reviews for Nine Months
Audience Reviews for Nine Months
Awful film from director Chris Columbus, Nine Months proves that Hugh Grant is a terrible actor that has no screen presence. The film was a total misfire. I hated this film, and thought it had so much more potential than what it turned out to be. This is boring, lazy filmmaking and is a film simply not interesting to get into. This film simply missed the mark in every respect. The result is a film that is very forgettable with a poor cast of actors and bad comedy. This film was simply one of those comedies that really tried too hard at delivering the laughter, but ultimately failed. Chris Columbus is very much hit and miss as a director, and he really misses it here. The film falls flat when it should be a good timer. This is a tiresome, unfunny film that really doesn't work. There's really no substance involved in this plot to keep you involved, entertained and ultimately interested. This was a painful film to watch, and one that doesn't deliver due to a poorly written, thought out script. If you're looking for a great film with this one, you will be sadly disappointed. There is nothing here that redeems its awfulness and it makes you wonder this film got made in the first place. As a romantic comedy, it fails, and as a film it fails even more. This is garbage that is uninspired and a waste of time to sit through. Chris Columbus really made one of his worst films with this one. Luckily he would redeem himself with the first Harry Potter film. This had some decent ideas that unfortunately went nowhere, and worst of all, it felt long, too long even because nothing good or entertaining really happens. Avoid this waste of film.
Columbus try make this film, a sucess comedy with aspect of sitcom. Grant, Moore and Williams as the neurotic Dr. Kosevich, which was to steal the scene, don't does Nine Months be a comedy for all family or a funny film, written by the creator of Home Alone. Summarize, Nine Months, is a bad movie, that could be fresh, but really not made right to recommend. Rotten.
Lucas Martins
Super Reviewer
This had some fun moments in it.
Tim Salmons
Super Reviewer
Nine Months Quotes
| | |
| --- | --- |
| Marty Dwyer: | I did it! I brought you back to life! Boy it seemed like you were trying to French kiss me. |
| Samuel Falkner: | I was trying to scream. |