Ninja
(2009)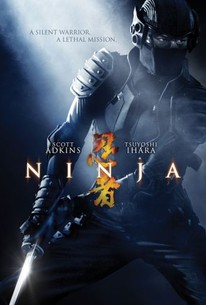 AUDIENCE SCORE
Critic Consensus: No consensus yet.
Movie Info
An American Ninja (Scott Adkins) journeys from Japan to the U.S. on a mission to prevent a collection of valuable weapons from falling into the hands of a dangerous Yakuza.
Critic Reviews for Ninja
All Critics (3) | Fresh (1) | Rotten (2) | DVD (1)
Ninja irritates far more than it thrills. Ninja pictures come around with all the regularity of Halley's Comet, making the complete uselessness of the feature all the more excruciating.
As long as there are strip-mall dojos and martial arts fans who wish to see their kick-fantasy shenanigans acted out on celluloid, there will be movies like Ninja.
Audience Reviews for Ninja
Well this action takes you right back to the late 80's early 90's. If you picture 'Teenage Mutant Ninja Turtles' but with blood and for an adult audience then you have 'Ninja'. I won't lie to you I found this silly nonsense kinda fun to watch hehe it was full of totally ridiculous set pieces, hordes of blade fodder in the form of a never ending supply of henchmen all wearing identical outfits which is simply hilarious and some really over the top CGI blood spurting. Yes this was an epic slice of hokum. I gotta admit there was some nice imagery throughout the film with the ninja suits, especially in the dark rainy parts and the dojo sequences at the start. Some cool fights, moves and some nice weaponry to boot...its a film about cool ass ninjas, think about it. Totally predictable and extremely corny with all the regular goodie and baddie cliches but admittedly Adkins (the goodie ninja guy) has probably the best looking torso I've seen since Jason Scott Lee in 'Dragon: The Bruce Lee Story'! As a man I must admit I was impressed! and this is one of his early films too, before he became even more buffed for the 'Undisputed' franchise. I really didn't know they made films like this anymore, yet I'm pleased. Really brought memories of my teen years flooding back, the only thing missing from this Shinobi epic is Cary-Hiroyuki Tagawa snearing his ass off, now that would have been the ultimate badassery.
Phil Hubbs
Super Reviewer
½
It's a cool, bloody as hell and kick ass action movie that delivers. It packs lots of kicks, punches and sword play into one fast, furious, fun and exhilarating adventure. A tremendously thrilling and eye-popping film. Scott Adkins is one of the coolest new action heroes around and i hope we see more of him in lead roles. A movie that's all style and adrenaline. A pulse-racing and action-packed thrill-ride that you will love to watch. It's slick, stylish and delivers well-crafted action sequences in the tradition of old-school martial arts films. Director, Isaac Florentine and Scott Adkins keep delivering the goods when they work together.
Me personally? I think the formula is a pretty simple one: the better the actor, the better the villain. No matter the strength of the script, if you pick a good actor for your villain, the day is saved. Automatically. If Morgan Freeman, even, had been cast as the villain, this would be a multiple-star experience. Sadly, however, that little, basic, simple, obvious formula has escaped team Ninja. Not to pick on Tsuyoshi Ihara. Everyone in this one except Togo Igawa, playing the sensei, is weak.
The last movie I saw in this genre vein was Rain's Ninja Assassin. See Ninja Assassin if you're looking for a slick ninja action flick. This one pretty much bites the big one. In a feeble kind of all gum and no teeth way.
Lanning : )
Super Reviewer
Ninja Quotes
There are no approved quotes yet for this movie.