Ninja Cheerleaders
(2007)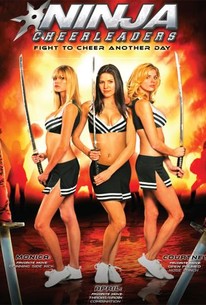 AUDIENCE SCORE
Critic Consensus: No consensus yet.
Ninja Cheerleaders Photos
Movie Info
Trained to kill but determined to cheer their school's team to the championship game, three lethal cheerleading ninjas must put down their pom poms and pick up their katanas when their sensei is abducted by the mob. April, Courtney, and Monica may just be college freshmen, but they can take out an army of ninja assassins with the skill of an ancient master. Schooled in the ancient martial arts by the esteemed Sensei Hiroshi (George Takei), these three beauties spend their days in the classroom and their nights in the strip club - where they work the poles to pay for their college tuition. Then one day, Sensei Hiroshi is abducted and their lives are suddenly turned upside down. Now, in order to rescue their master, April, Courtney, and Monica will have to summon the skills he once taught them and take on a virtual army of mob assassins. With a nosy cop closing in on one side and suspicious parents asking questions on the other, these girls will have to work overtime in order to keep anyone from finding out what kind of destruction they're truly capable of.
Critic Reviews for Ninja Cheerleaders
Audience Reviews for Ninja Cheerleaders
If you don't like this film then you are gay. I don't mean that in an offensive way, but this film is filled with so much female empowerment the ladies should love it and the girls are Ninjas, Cheerleaders AND exotic dancers. So guys MUST love it. It's fast furious fun and is an example of pure cinematic entertainment as opposed to art. There are no pretensions with this film. It's gloriously sweet with Maitland McConnell being the cutest woman ever all smiles and big lovely eyes. The acting is also well above what you'd expect. No the action isn't on par with that of Kill Bill's choreography but the fights are still enjoyable are not so bad that it detracts from the film. Excellent fun.
Luke Baldock
Super Reviewer
Ninja Cheerleaders Quotes
There are no approved quotes yet for this movie.