Ninja Masters (Coweb) (Zhang wu shuang)
(2009)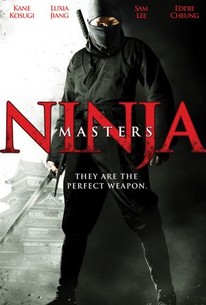 AUDIENCE SCORE
Critic Consensus: No consensus yet.
Movie Info
A martial arts instructor becomes a bodyguard for an influential couple, and competes in an underground fighting tournament to save them from vicious kidnappers. ~ Jason Buchanan, Rovi
Critic Reviews for Ninja Masters (Coweb) (Zhang wu shuang)
There are no critic reviews yet for Ninja Masters (Coweb) (Zhang wu shuang). Keep checking Rotten Tomatoes for updates!
Audience Reviews for Ninja Masters (Coweb) (Zhang wu shuang)
½
Xin Xin Xiong has done a lot of acting and stunt work, but he decides to step behind the camera for Coweb.
At a brief 87 minutes, which isn't out of the ordinary for an action movie like this, the story is simple and so is the dialogue. A typical bodyguard assignment goes awry. While this may not sound spectacular, it serves its purpose of setting up multiple fights scenes for our heroine to work with.
The action is a plenty and it comes down to something happening every 10 minutes. Real life martial artist Lu Xia Jiang displays her skills in astonishing fashion. The choreography is thought out and there is no joke as to the realism of her talent. The editing is questionable at times, the sound effects are fair, and there are a number of slow motion scenes; however, there is more than enough high octane real time butt kicking to go around.
Lu Xia Jiang's acting doesn't live up to her martial arts abilities, but this is only a minor let down. Kane Kosugi, who is also a great fighter, is a formidable foe for Jiang. Everyone else is pretty much forgettable.
In the end, Coweb shines on the action while everything else takes a back seat. Fans of martial arts should consider this.
This martial arts action movie is directed by Xin Xin Xiong and written by Sunny Chan. I have to say that I regreted watching this in the first 30 minutes. Yes, it picked up the pace later on, and there was slight improvement but too little and too late. The story of a martial arts instructor who is recruited as a bodyguard for a high-power couple was just too undeveloped to feel real - on her first day of duty, her employers are kidnapped! When she starts desperately searching for the couple, she finds cryptic messages from the kidnappers leading her into a deadly world of underground fighting... and that is where starts and finishes... long fights without anything to keep you interested if you become sick of fighting only! Acting of Kane Kosugi and Luxia Jiang was really bad, while Sam Lee, Eddie Cheung and Siu-Fai Cheung at least did their best with such a bad screenplay. Action, fighting, no brainer... I really thought it was a waste of time! I am still trying to figure out why was it called Ninja Masters in English.
Ninja Masters (Coweb) (Zhang wu shuang) Quotes
There are no approved quotes yet for this movie.