Ninja Scroll
(1995)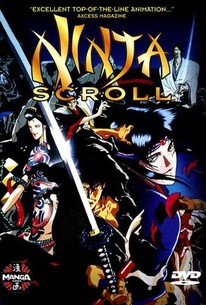 Movie Info
Removed from the typical futuristic element of most Japanese animated adventures, this 1994 feature takes place in more of a sword-and-sorcery epic set in feudal Japan. Jubei Kipagami, a ninja mercenary, wanders the countryside in search of work. On his travels, he encounters Kagero, a female ninja whose poisoned blood causes her pale skin to be lethal to the touch. Jubei rescues the woman from Tessai, a creature made of rock. They later find that Tessai is one of the Eight Devils of Kimon, who are involved in a plot to overthrow the Shogun. A story of impossible love between Jubei and Kagero is somewhat interesting, but the true draw of Ninja Scroll is its action sequences. The dazzling swordplay of Japanese live-action samurai movies is not often seen in the animated genre, which tends more towards science fiction; however, this animated work has fight scenes in abundance. Although its content is too strong for children, adult fans of Japanese animation, samurai films, and fantasy should find it enjoyable. ~ Jonathan E. Laxamana, Rovi
Critic Reviews for Ninja Scroll
Audience Reviews for Ninja Scroll
If there is a word that resumes quite well this film is action, NS is all about the action. The plot is "101 Action/epic fiction" and curious enough is what makes it work. Kawajiri knows that there is no point in trying to re-invent the genre, so instead he works in crafting a rich and excentric visual background.
Tsubaki Sanjuro
Super Reviewer
A ninja-for-hire joins forces with a cursed female ninja and a gnome-like spy to fight against the Eight Devils of the Dark Shogun. Above-average anime adventure/fantasy set in feudal Japan featuring nice artwork, a complicated but coherent plot, and graphic violence and nudity. This is a 5 star movie if you're a 16 year old boy, but loses a half star with every two years you age until it flattens out (if you're a girl, I assume it starts out flat).
½
12/09/2010 (ONLINE) If you liked "Ninja Assassin" then you may wanna see this, especially in the "blood and gore" department. This is another "classic" Manga/Anime that blew up the scene back in the days like "Fist of the North Star", "Guyver" and stuff like that and it's still a cool as flick to watch for me. The story is cool and I'm always down with the whole "Ninja" thing. Awesome drawings, kick-butt voicing and blood is constantly splattered generously. Although it's quite old it's still better than some the "animated flicks" made these days, even better than some "live action" ones too, but then again that's my opinion. It's been a while since I'd seen this and watching this again was still a great experience, I am glad I found it online because someone burrowed my DVD of this and I haven't seen it since. I might buy another one. Maybe.
EightThirty .
Super Reviewer
Ninja Scroll Quotes
There are no approved quotes yet for this movie.