Ninja Squad
(1986)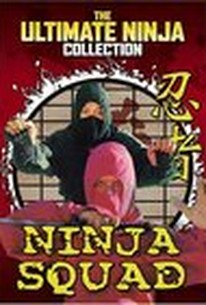 AUDIENCE SCORE
Critic Consensus: No consensus yet.
Movie Info
In this actioner, ninja bands battle it out for power and prestige. ~ Sandra Brennan, Rovi
Critic Reviews for Ninja Squad
There are no critic reviews yet for Ninja Squad. Keep checking Rotten Tomatoes for updates!
Audience Reviews for Ninja Squad
How in the world did this movie end up getting reviewed by me, i've never heard of this movie, but yet I found it a garage sale for you know, free. Yeah that's right, I got this awful movie for free and I still feel like I got ripped off. It's about Billy the Ninja wanting revenge on a gang for killing family and stealing his girlfriend. Like I said in my Ninja Assassins review, anything with the title Ninja in it is bad. First, the Ninja costumes are terrible. As you expected them to look better than on the DVD cover. The director wanted to make sure the audience knew who the Ninja were by writing Ninja on there headbands. Really, for once I wish it wasn't true, but it gets worse. Second, the dubbing is horrible. I know people usually complain dubbing for various reasons, but here it's pretty obvious why people hate dubbing, is just annoying to hear in this movie. Third, the sound affects are as generic as possible and are often poorly timed. Now back to the Ninja costume, you would think the costumes would improve along the production, but no, they get they worse. I mean there's a pink Ninja, and it's a guy. A guy in a pink Ninja suit who for some reason, has like his own movie in this movie. It's just as bad as Billy version, I mean the evil Red Ninja kills another poorly dressed Ninja by cutting him, yet no blood comes out and it doesn't even rip the costume a little. So I think you get the point the Ninja suits are terrible, so i'll move back to the story. As the for the evil red ninja I mention before, he challenges our pink ninja to duel and threaten to kill another ninja every month. He kills four ninja and at the same time Billy is saving his girlfriend which I doubt takes four month to take. I also like how in a scene we see a car that could fit six people at best and yet like sixteen guys come out. So after Billy dies, what you got left is the last battle, that also sucks. So after the battle is over. The pink Ninja does a flip in vanishes into thin air and you get an end screen, with no credits. Wow, the director, Godfrey Ho, even mange to screw up as something as simple as the credits. Ninja Squad is a terrible movie with no redeeming values and it sucks to think. Heck it was free and I still feel I got ripped off. Godfrey Ho is to Ninja movies as Uwe Boll is to video-games movies, and just by watching this one movie is enough for me to stand by that statement.
Caesar Mendez
Super Reviewer
Ninja Squad Quotes
There are no approved quotes yet for this movie.