Ninotchka
(1939)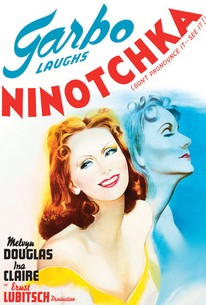 Movie Info
"Garbo Laughs!" declared the ads for Ninotchka. In the face of dwindling foreign revenues, MGM decided to put Greta Garbo, a bigger draw in Europe than the US, in a box-office-savvy comedy, engaging the services of master farceur Ernst Lubitsch to direct. The film opens in Paris during the aftermath of the Russian revolution. A trio of Russian delegates (Sig Rumann, Felix Bressart, and Alexander Granach) are sent to Paris to sell the Imperial Jewels for ready cash. Grand Duchess Swana (Ina Claire), who once owned the jewels, sends her boyfriend Count Leon (Melvyn Douglas) to retrieve the diamonds, and he turns the trio into full-fledged capitalists, wining and dining them all through Paris. Moscow then dispatches the humorless, doggedly loyal Comrade Ninotchka (Garbo) to retrieve both the prodigal Soviets and the gems. When Leon turns his charm on Ninotchka, she regards him coldly, informing him that love is merely a "chemical reaction." Even his kisses fail to weaken her resolve. Leon finally wins her over by taking an accidental fall in a restaurant, whereupon Ninotchka laughs for the first time in her life. She goes on a shopping spree and gets drunk, while Leon begins falling in love with her in earnest. As a bonus to the frothy script, by Billy Wilder and others, and its surefire star power, Ninotchka features what is perhaps Bela Lugosi's most likeable and relaxed performance.
Critic Reviews for Ninotchka
Audience Reviews for Ninotchka
Somehow I'm taken aback by how quickly Garbo's character changes from one scene to the next (which is in fact coherent with the film's obvious anti-Sovietism and casual sexism), but her magnetic presence and the excellent dialogue make everything an enormous pleasure to watch.
Carlos Magalhães
Super Reviewer
½
The sale of an exiled countess's diamonds brings a Soviet investigator to Paris where she falls her rival. Garbo laughs! Greta Garbo delivers a phenomenal performance as the eponymous character in this romantic satire/farce. Garbo's cyborg character softens about forty-five minutes into the film, and from then on she becomes old cinema's definition of charming, charismatic female lead. Melvyn Douglas is a fine leading man, and the three Russian stooges provide good comic relief. The film is typical Cold War-era fare -- maybe a little more complex as Leon actually reads Das Kapital, but that only sets up the butler's capitalistic retort to Communist ideology. But the film's strength is that it stays focused on the human relationship and the change in the character rather than on the what Ninotchka's conversion means as a political statement. Overall, this is a charming film that keeps its political message in the background.
Jim Hunter
Super Reviewer
½
This predictable romantic comedy disguises itself as a story about relations between Russia and France, but that story takes a back seat to the romance in the end. I found this movie contrived and boring. I liked the more comedic remake, Silk Stockings (1957), better than the original.
Ninotchka Quotes
| | |
| --- | --- |
| Ninotchka: | If it's a choice between my personal interest and the good of my country how can I waiver? No one shall say Ninotchka was a bad Russian. |
| | |
| --- | --- |
| Russian Visa Official: | [phone rings] Hello. Camrade Kasavi? Oh I'm sorry, he hasn't been with us for six months. He was called back to Russia and was investigated. You can get further details from his widow. You're very welcome. |
| Russian Visa Official: | Hello. Camrade Kasavi? Oh I'm sorry, he hasn't been with us for six months. He was called back to Russia and was investigated. You can get further details from his widow. You're very welcome. |
| | |
| --- | --- |
| Russian Visa Official: | Well everything is in order. I hope you will enjoy your trip to Russia, Madame. |
| Gossip: | Thank you. Oh, by the way, I've heard so many rumors about laundry conditions in Russia. Is it advisable to take one's own towels? |
| Russian Visa Official: | Certainly not Madame. That is only capitalistic propaganda. We change the towel every week. |
| | |
| --- | --- |
| Ninotchka: | No one can be so happy without being punished. |