Nitro Circus: The Movie 3D
(2012)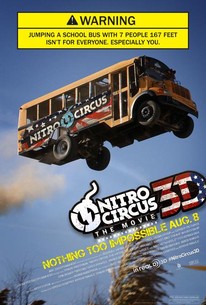 Nitro Circus: The Movie 3D Photos
Movie Info
The show follows Travis and the Nitro Circus Crew as they travel around the world setting up outrageous stunts and pushing the human body to the limit, constantlylooking to innovate the world of action sports. Travis' compound in Annapolis houses a full motocross course, foampits and a homemade waterslide carved into a hill creating a self contained extreme sports circus. -- (C) Official Site
News & Interviews for Nitro Circus: The Movie 3D
Critic Reviews for Nitro Circus: The Movie 3D
Audience Reviews for Nitro Circus: The Movie 3D
Nitro Circus's feature film didn't quite have the same success as those that Jackass put out, but in reality they're not too far apart. This movie is fun for what it is, and what it is, is a bunch of fearless(at least they appear that way) extreme sport athletes doing crazy stunts. The crazy stunts range from tricycle double backflips to seeing how many times they can roll a car. None of these ideas are too bright, but they all seem to work out in an entertaining and dangerous way. The film is basically just watching the different experiments in pain and danger. In-between there are interviews with different people and we also count down the time until the teams first live show in Las Vegas.  The film is alright for what it is. These aren't my favorite things to watch, but I do find everyone in the Nitro Circus crew to be likable. In the end, you should no whether you'll get any enjoyment out of this all before even starting it. If you like watching people cause injury to themselves then it may be worth a look, if not, stay away because that is all this is.
Melvin White
Super Reviewer
½
The only interesting part of the film is the stunts which are quite tame compared to what the shows actually deliver.
Brendan O'Connor
Super Reviewer
½
Nitro Circus delivers some cool stunts, but in terms of substance, there's nothing else to offer. The attempts at comedy, doesn't have anything that stands out, and after watching members of the team whip out constantly, this movie becomes tiresome and stupid. This film could have been something great, I mean some of the stunts were fun to watch, and I enjoy Travis Pastrana, but this one failed to deliver something truly memorable and fun. I've had more fun watching Jeb Corliss videos on YouTube than watching this painful attempt at delivers a stunt movie. After a while, I found myself not caring what was happening on-screen. This is a tiresome film that despite the fact relies on cool stunts, is not a film worth seeing again. Beware about this one, you've seen it all before and though some things that Nitro Circus do are cool, it lacks depth and a reason to exist. For example, they could have gone into the history of Nitro Circus a bit more and introduced each member and give them a reason why they have that rush of adrenaline. No reason is ever given, and it's just stunt after stunt, along with a few fails, and bad attempts at humor. I'll give these guys credit, what they do is cool; however it did not necessitate a film. This was poorly done and it would have been better as shorts instead of a full on feature length movie. Fans may enjoy it, but I didn't enjoy the way I thought I would. In fact, I thought it was awful as a feature.
Nitro Circus: The Movie 3D Quotes
| | |
| --- | --- |
| Tommy Passemante: | Your like a unicorn, the only difference is... you've been spotted. |
| Nitro Circus Crew: | You're like a unicorn, the only difference is... you've been spotted. |
| | |
| --- | --- |
| Travis Pastrana: | You landed on your face and you got a calf cramp? |
| | |
| --- | --- |
| Travis Pastrana: | Making dreams and nightmares come true. |