No Country for Old Men
(2007)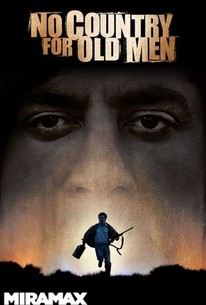 TOMATOMETER
AUDIENCE SCORE
Critic Consensus: Bolstered by powerful lead performances from Javier Bardem, Josh Brolin, and Tommy Lee Jones, No Country for Old Men finds the Coen brothers spinning cinematic gold out of Cormac McCarthy's grim, darkly funny novel.
No Country for Old Men Photos
Movie Info
When a Vietnam veteran discovers two million dollars while wandering through the aftermath of a Texas drug deal gone horribly awry, his decision to abscond with the cash sets off a violent chain reaction in a stripped-down crime drama from Joel and Ethan Coen. Llewelyn Moss (Josh Brolin) has just stumbled into the find of a lifetime. Upon discovering a bullet-strewn pickup truck surrounded by the corpses of dead bodyguards, Moss uncovers two million dollars in cash and a substantial load of heroin stashed in the back of the vehicle. Later, as an enigmatic killer who determines the fate of his victims with the flip of a coin sets out in pursuit of Moss, the disillusioned Sheriff Bell (Tommy Lee Jones) struggles to contain the rapidly escalating violence that seems to be consuming his once-peaceful Lone Star State town. Woody Harrelson, Javier Bardem, and Kelly MacDonald co-star in a distinctly American crime story that explores timeless biblical themes in a contemporary Southwestern setting. ~ Jason Buchanan, Rovi
News & Interviews for No Country for Old Men
Critic Reviews for No Country for Old Men
Audience Reviews for No Country for Old Men
½
Press the replay button again, because this one's a keeper, for sure, as Javier Bardem re-ups the ante some on just what's wrong with those darn kids nowadays in this savvy commentary on modern times. The title doesn't really hit you until after you see it. America the beautiful? This work adores the America everybody is mostly trying to get away from, the America with big wide open spaces in between ... and what can happen there. See a guy sweat bullets just fer askin' "how's the weather up there?" in one of my fav scenes...see it, see it, see it.
Kevin M. Williams
Super Reviewer
½
A phenomenal Western concerning discovered treasure and the troubles it brings for one individual (Josh Brolin), unbeknowest to him that a maniacal serial killer (Javier Bardem) won't rest until he has what's his. It has a beautiful take on the downward spiral humanity is in and the detachment many country folk feel from the current world advancing so fast in technology and forgetting their roots. Bardem is especially memorable as the villain, who is frightening all the way to the end. In my mind though, not worthy of the "Best Picture" honor it received at the Academy Awards that year (that belongs to "Into the Wild"), but still, a truly great film that has aged wonderfully.
Dan Schultz
Super Reviewer
½
A Texan welder stumbles across the aftermath of a drug deal gone wrong and helps himself to the $2 million in cash no-one is left alive to claim. Unfortunately he does not count on a single minded psychopathic killer with a tracking device...This film basically distills elements of all their best work and creates a cold and cynical statement on the state of man. Javier Bardem's character is the most chilling and amoral bastard you will ever see; on more than one occasion he reminded me of a terminator with bad hair, except more cold-blooded! The pursuit of the stolen money just leads to bloodshed and tragedy for all involved, many innocents dying for just being in the wrong place at the wrong time. The underlying theme is the randomness of life; good things DO NOT happen to good people and there is no karmic "masterplan". This means that the ending may leave some feeling a little cheated because things aren't tied up nicely into a complete and satisfying package as so many stories are conventionally presented. But the journey there is as gripping as anything you are going to see; it has the tension, brooding atmosphere and cynicism of Blood Simple, the pragmatic investigation by a dismayed lawman in a similar way to Fargo and the style and brutal violence of Miller's Crossing. The shoot out between Bardem and Brolin is one of the best I've ever seen, reminding me of Michael Mann meets Peckinpah with a dash of Assault On Precinct 13. It is a case of the journey being better than the destination, but any Coen brothers fan will not be disappointed; they are back to their best.
No Country for Old Men Quotes
| | |
| --- | --- |
| Sheriff Ed Tom Bell: | Then I woke up. |
| | |
| --- | --- |
| Anton Chigurh: | I'm lookin' for Llewelyn Moss |
| Desert Aire Manager: | Did you go up to his trailer? |
| Anton Chigurh: | Yes, I did. |
| Desert Aire Manager: | Well, I'd say that he's at work. Do you wanna leave the message? |
| Anton Chigurh: | Where does he work? |
| Desert Aire Manager: | I can't say. |
| Desert Aire Manager: | Sir, I ain't at liberty to give no informations about our residents. |