No Escape
(1994)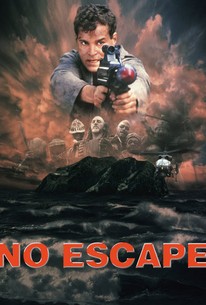 Movie Info
A man from the future fights to survive in a society thrown back to the dark ages in this sci-fi adventure set in 2022. Capt. Robbins (Ray Liotta) is a military man who, after he's convicted of the murder of his superior officer, is sentenced to a high-tech prison ruled by the Warden (Michael Lerner), a cruel taskmaster who enjoys torturing his inmates. After a scuffle with the Warden, Robbins is transferred to a primitive island penal colony known as Absalom, where the civilization is dominated by two groups, the Insiders, a peaceful tribe led by the Father (Lance Henriksen), and the Outsiders, a pack of violent misfits led by Marek (Stuart Wilson). Robbins runs afoul of the Outsiders and is injured in a skirmish; he escapes to the Insiders' camp, where he plots his revenge. No Escape was based on the novel The Penal Colony by Richard Herley.
News & Interviews for No Escape
Critic Reviews for No Escape
Audience Reviews for No Escape
Terrible film but there is some great acting in it.
Tim Salmons
Super Reviewer
½
Fun, action packed 90's movie that was overlooked and under appreciated. The story is about a highly decorated Army cadet who assassinates his general officer for moralistic reasons. His punishment is life in prison on a deserted island called "Absolom" where the deadliest of prisoners are forced to live in a brutal society controlled by vicious warlords. The graphics, for the time, were good. Ray Liotta puts in a great performance, which is something I don't usually find myself saying too often. This movie pales in comparison to current eye candy blockbuster action movies, but this is still a great 90's action movie that you should check out.
excellent different storyline but very good and action packed on edge of seat
Film Crazy
Super Reviewer
No Escape Quotes
There are no approved quotes yet for this movie.