No Good Deed
(2003)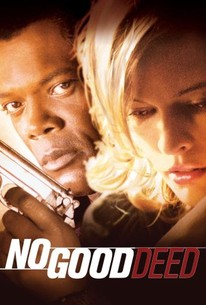 Movie Info
Based on a story of the same name by Dashiell Hammett, the crime thriller The House on Turk Street was directed by veteran filmmaker Bob Rafelson. Cello-playing cop Jack Friar (Samuel L. Jackson) searches for a teenage runaway on Turk Street and ends up in the home of an elderly couple (Joss Ackland and Grace Zabriskie). The house also turns out to be the headquarters for a gang of criminals who are planning a bank robbery, and Jack is quickly held hostage. When Jack is left alone with gang member Erin (Milla Jovovich), he teaches her to play the cello and the two share a mutal attraction. Meanwhile, Erin continues to manipulate gang leader Tyrone (Stellan Skarsgard), violent thug Hoop (Doug Hutchison), and inside man David (Johnathan Higgins).
Critic Reviews for No Good Deed
Audience Reviews for No Good Deed
Samuel L. Jackson plays a cop who works in grand theft auto, but decides to help a grieving neighbor by finding her runaway daughter, believed to be with a boyfriend on Turk Street. He stumbles on a gang of bank robbers who takes him hostage because they think they've been discovered. The elements include the mastermind and ruthless gangster, a femme fatale , and rude maniac hit-man. Milla Jovovich as Erin does a good job of playing a femme fatale and is highly believable in her role as a woman who plays all the men against each other. Doug Hutchinson of The Green Mile makes a great Hoop and was very convincing. Stellan Skarsgård as Tyrone is the boss and mastermind. His biggest task seems to be holding everything together and breaking up fights among his hang of misfits. Fairly watchable.
½
No Good Deed is very reminiscent of your stereotypical 90's cops and robbers drama. It's fun, but there's' not much more you can say about it. The film unfolded in a very linear pattern and each character was stereotypical... nothing surprising. I found my man Samuel L Jackson to be a little flat, as well as Jovovich. They seemed bored... but she still some how managed to find her way topless in front of the camera. Stellan Skarsgard however was exceptional.... If you're a fan of either of those 3, definitely give this film a shot. Or if you're interested in a typical cops and robbers movie, check it out.
THe only good thing about this one was the Sam Jackson played a hardcore cello.
Curtis Lilly
Super Reviewer
No Good Deed Quotes
There are no approved quotes yet for this movie.