No Highway in the Sky
(1951)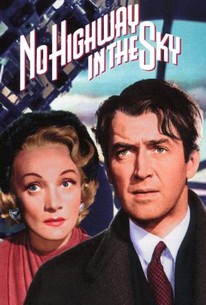 AUDIENCE SCORE
Critic Consensus: No consensus yet.
No Highway in the Sky Photos
Movie Info
Considered a bit eccentric and therefore a tad unreliable, a Royal Aircraft Establishment metallurgist is still respected for his work on the company's newly designed Reindeer, aircraft. Unfortunately, the off-beat scientist has discovered that the new plane has a fatal flaw and that after spending 1,440 hours airborne, the metal in the rear will buckle and the tail will shear off. Now he must somehow convince skeptical executives that a terrible catastrophe will occur if they do not immediately ground all Reindeers.
Critic Reviews for No Highway in the Sky
All Critics (3) | Fresh (2) | Rotten (1)
Fans of Stewart and Dietrich should appreciate this obscure title.
American military war hero pilot James Stewart plays the eccentric Yank scientist working for a British airline, and gives one of his better and more pleasing performances as someone kindhearted but a bit daffy.
No Highway in the Sky is notable for its depiction of airline travel and disaster-film dynamics, each then in emerging stages. Unfortunately, it's not very skilled at either one.
April 18, 2011 | Rating: 3/5
Audience Reviews for No Highway in the Sky
½
Competently acted, directed, edited, and hardly anything more than that. James Stewart turns in a great performance. As a whole, the film is enjoyable from start to finish.
Paris Smith
Super Reviewer
A surprise of a piece as Jimmy Stewart plays a Yank over in Britain, an seriously absentminded science geek kind of guy, working for an airline, who's discovered that the brand new flagship has a serious flaw. It doesn't seem like much, but it's an Brit film entirely, which is to say that the characterizations are everything, and so they carry the story here. Marlene Dietrich is on hand as a touring movie star doubtful about her life choices, Jack Hawkins ably leads us into the tale, Kenneth More and Wilfred Hyde-White light the background, but the film belongs to the diminutive Glynis Johns as the soul who recognizes the true worth in Stewart's bumbling, stumbling, distracted professor. Really enjoyable.
Kevin M. Williams
Super Reviewer
Despite what my old man will tell you, No Highway in the Sky is not a great movie. It's got a great cast and the story had some potential to be a real potboiler but it just kind of turns into Jimmy Stewart trying to do something different and doing a pretty good job at it. Marlene Dietrich plays herself and at times I felt like I was watching Harvey without a lot of the humor and the invisible rabbit. When I got done watching No Highway in the Sky I started wondering why Jimmy Stewart wasn't better known for this movie. The more I think about it, the less I wonder...
Michael Gildea
Super Reviewer
No Highway in the Sky Quotes
There are no approved quotes yet for this movie.