No One Lives
(2013)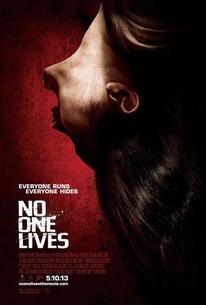 Movie Info
A ruthless criminal gang takes a young couple hostage and goes to ground in an abandoned house in the middle of nowhere. When the captive girl is killed, the tables are unexpectedly turned. The gang finds themselves outsmarted by an urbane and seasoned killer determined to ensure that no one lives. (c) Anchor Bay
Critic Reviews for No One Lives
Audience Reviews for No One Lives
½
Brutality doesn't always make up for lack of everything else. Bloody as hell but thats pretty much it!
Film Crazy
Super Reviewer
Ryuhei Kitamura's No One Lives lives up to its title, but that doesn't make it a great movie.
Dishing out a story that barely touches 80 minutes, No One Lives has one or two tricks up its sleeve. With that said, there isn't much else out of the ordinary thanks to the antagonists, antagonists, antagonists, and violence.
The gore is extreme and is easily one of the more memorable components of this picture. There is no shortage of it either, especially with the number of characters looking to take a slaughter.
Luke Evans has quite the character, thus leading to another of the film's highlights. Adelaide Clemens has a moment or two. The rest of the cast turn in some predictable supporting characters.
While No One Lives isn't completely full of flaws, it's still a passable film.
½
A bloody as hell and high-octane grand-house horror movie that will keep you on the edge of your seat with its blood-bursting thrills, terrifying thrills, twisted suspense and Luke Evans brilliant and sadistic performance, which truly makes this film worth watching. It does not hold back on the gore or chaos and just makes for pure unashamed horror film fun. Anyone who enjoys the old-school slasher flicks on the 70's and 80's will get a real kick out of this film. A bone-chilling and wickedly cool thrill-ride