No Place to Hide
(1993)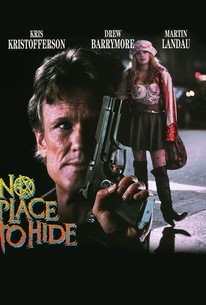 AUDIENCE SCORE
Critic Consensus: No consensus yet.
Movie Info
In this gory thriller, a troubled dancer has just enough time to convince her little sister to hide a videotape before she is stabbed to death by an unseen killer, leaving the surviving sister in grave danger. Fortunately, a cynical but determined cop comes on the case to help her.
Audience Reviews for No Place to Hide
An adult film -- only those who have experienced what it might be like to lose one's family to the carelessness of a drunk driver might find a certain resonance with Kris Kristofferson's superb portrait of an embittered yet vulnerable detective. A version of the "I've got to put my life back together" story, the film comes perilously close to focusing too much on Drew Barrymore's teenage angst -- her rebellion against authority is not simply the typical teenager's, nor merely the result of being spoiled, as Kristofferson's detective finds out when she begins to cling to him out of real need. As a potential victim of the mysterious group that killed her sister, she needs protection; but as the discarded and abandoned orphan she has become, she needs the love and care of the father she never had. A film to be watched for intense and subtle performances by the two leads, and as well, for OJ Simpson's final film role as Kristofferson's physically disabled pal - a nice counterpart to to the emotionally crippled Barrymore-Kristofferson duo.
Cassandra Maples
Super Reviewer
No Place to Hide Quotes
There are no approved quotes yet for this movie.