No se aceptan devoluciones (Instructions Not Included)
(2013)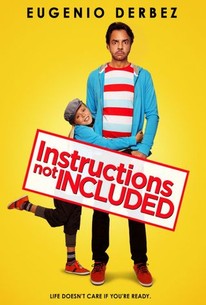 No se aceptan devoluciones (Instructions Not Included) Photos
Movie Info
Valentin (Eugenio Derbez) is Acapulco's resident playboy-until a former fling leaves a baby on his doorstep and takes off without a trace. Valentin leaves Mexico for Los Angeles to find the baby's mother, but only ends up finding a new home for himself and his newfound daughter, Maggie (Loreto Peralta). An unlikely father figure, Valentin raises Maggie for six years, while also establishing himself as one of Hollywood's top stuntmen to pay the bills, with Maggie acting as his on-set coach. As Valentin raises Maggie, she forces him to grow up too. But their unique and offbeat family is threatened when Maggie's birth mom shows up out of the blue, and Valentin realizes he's in danger of losing his daughter- and his best friend. (c) Official Facebook
Critic Reviews for No se aceptan devoluciones (Instructions Not Included)
Audience Reviews for No se aceptan devoluciones (Instructions Not Included)
"Cha! Cha!" This is what the main character had to tell himself whenever he was in a scary situation and needed courage, and it's also what I had to tell myself to fight through to the end of this movie. No Se Aceptan Devoluciones (Instructions Not Included) is a Spanish-language film about a man who finds out he has a daughter when the mom abandons her at his place, and he has to become a father quickly. This movie had some nice moments. The chemistry between the dad and the daughter (who did great, by the way) worked for this movie. The message of the film about facing your fears was a nice thought. It's all downhill from there. The story was all over the place as far as pacing and logic. Almost every actor must have been told to really sell it, because there was a lot of overacting. The humor didn't land with me; it was all a bunch of poorly-written sex jokes and pop culture references. Also, this movie did not need to be a full 2 hours. Basically, this movie plays out like a Hallmark Channel original film. If you enjoy movies where you can just turn your brain off and enjoy the feels, you might like this. However, if you want substance in your storytelling, avoid that play button.
Ben Bruflat
Super Reviewer
It wasn't sure what it wanted to be, and I wasn't sure what it was.
½
Life doesn't care if you're ready. Good Film! Excellent performance from Derbez and the little girl. It's one of those movies that you go out happy to have seen! Congratulations to Derbez, great job! Currently the Mexican films are giving very pleasant surprises for the audience, which in many times have not believed in the talent and scope of this new generation of filmmakers, this movie is going to win many awards and you will see that. At first I thought I would see a movie more than the classic that the mother will take away the kids from the father but no, this story is amazing. Valentin is Acapulco's resident playboy, until a former fling leaves a baby on his doorstep and takes off without a trace. Leaving Mexico for Los Angeles to find the baby's mother, Valentin ends up finding a new home for himself and his newfound daughter, Maggie. An unlikely father figure, Valentin raises Maggie for six years, while also establishing himself as one of Hollywood's top stuntmen to pay the bills, with Maggie acting as his on-set coach. As Valentin raises Maggie, she forces him to grow up too. But their unique and offbeat family is threatened when Maggie's birth mom shows up out of the blue, and Valentin realizes he's in danger of losing his daughter - and his best friend.
No se aceptan devoluciones (Instructions Not Included) Quotes
| | |
| --- | --- |
| Valentin: | I'll always carry with me the memory of the two great loves of my life, the first showed me how to be prepared to face life, and second, they showed me how they face life without preparation. |
| | |
| --- | --- |
| Valentin: | Because you are different. |