No Time for Sergeants
(1958)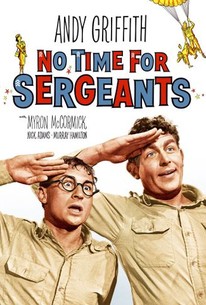 AUDIENCE SCORE
Critic Consensus: No consensus yet.
No Time for Sergeants Photos
Movie Info
Mac Hyman's hilarious barracks novel No Time for Sergeants was adapted for TV by Ira Levin in 1955, with newcomer Andy Griffith as bumptious Air Force draftee Will Stockdale. This TV version was soon afterward transformed into a Broadway play, and then a movie, again with Griffith in the lead. Brought to the Air Force base in handcuffs because his farmer father has been hiding his draft notices, good-natured Will becomes the target of ridicule for the other transcripts. Especially nasty is Private Irvin (Murray Hamilton), but Will is able to forgive him because he knows that Irvin is suffering from some mysterious disease called ROTC. Will's best pal is hot-headed private Ben (Nick Adams), who wants to be transferred to the Infantry and convinces Will to try for the same goal. Slowly becoming aware that the trusting, naïve Will may prove to be a troublemaker, career sergeant King (Myron McCormick), who wants nothing more out of life than a little peace and quiet, tries to keep Stockdale out of mischief by appointing him "PLO" -- Permanent Latrine Orderly, a dubious distinction in which Will takes enormous pride. Later on, King tries to pull strings to get Will transferred, succeeding only in losing his sergeant's stripes. The story goes off on a zany tangent when Will and Ben find themselves on a crippled plane in flight. They manage to escape with their lives, but all evidence suggests that they've been killed in the plane's crash. Imagine the dismay of newly reinstated Sergeant King when Will and Ben show up in his office -- just as the entire base is gathered for a memorial service for the two "fallen heroes." Featured in a minor role as a "coordination officer" is Griffth's future TV cohort Don Knotts, while Sammy Jackson, who played Stockdale in a 1964 sitcom version of No Time for Sergeants, shows up in an unbilled bit.
News & Interviews for No Time for Sergeants
Critic Reviews for No Time for Sergeants
Audience Reviews for No Time for Sergeants
½
Andy Griffith made a career playing country guys who, even if ignorant, always got over on smart-ass city slicker types and it sort of began with this Army tale of a good hearted if dim oaf who befuddles career soldiers. Nick Adams is good as his little buddy with big Army dreams. Myron McCormick maintains exasperation solidly fo the length of the piece.
Kevin M. Williams
Super Reviewer
½
Silly little comedy walks a fine line between charm and idiocy. What puts it over is the performances and the script full of humourous lines. Myron McCormick is wonderfully flustered as Sgt.King and Andy Griffith plays the simpleton Will Stockdale with just the right amount of innocence so he does't come across as a buffoon just a not very clever, naive but good hearted bumpkin. Nick Adams is also highly enjoyable as Andy frustrated buddy. Don Knotts only has one scene but he steals it.
Anthony Valletta
Super Reviewer
No Time for Sergeants Quotes
| | |
| --- | --- |
| Psychiatrist Maj. Demming: | I I would rather live in the rottenest pig sty in Tennessee or Alabama then the fanciest mansion in Georgia. How ?that |
| Psychiatrist Maj. Demming: | I would rather live in the rottenest pig sty in Tennessee or Alabama then the fanciest mansion in Georgia. How's that? |
| Will Stockdale (Narrator): | Well, sir . . . I thing where you wanna live is your own business. |
| Will Stockdale (Narrator): | Well, sir... I thing where you wanna live is your own business. |
| | |
| --- | --- |
| Ben Whitledge: | Have you ever had R.O.T.C.? |
| Will Stockdale (Narrator): | No . . ., but Irvin did! Close to a year of it. He's so or 'ornary I thing he still might have a touch of it. |
| Will Stockdale (Narrator): | No, but Irvin did! Close to a year of it. He's so or 'ornary I thing he still might have a touch of it. |
| Ben Whitledge: | No, Will. R.O.T.C. ain't a disease, it's trainin' . . . Reserve, Officer's, Training . . ,uh . . .Corporation! |
| Ben Whitledge: | No, Will. R.O.T.C. ain't a disease, it's trainin'. Reserve, Officer's, Training, uh corporation! |