No Turning Back
(2001)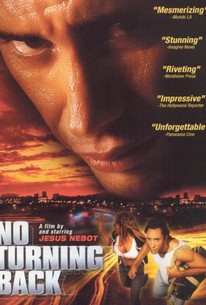 Movie Info
After fate conspires to make a man into an outlaw, he struggles to protect his child, the only thing he has left in life, in this drama. Pablo Hernandez (Jesus Nebot) was a professor of literature in Honduras when a hurricane descended on his city and wiped away nearly everything he had. While his young daughter, Cristina (Chelsea Rendon), managed to survive the disaster, his wife, his home, and his school were all destroyed. With nowhere to go, Pablo smuggles himself and Cristina into the United States, where he is able to find work as an undocumented laborer. But Pablo's bad luck comes back with a vengeance when, after borrowing his boss' truck, he accidentally runs into a child playing in the street; Pablo flees the scene of the crime, and after collecting his daughter, tries to stay one step ahead of police detective Bryan (Vernee Watson-Johnson), who has been assigned to bring the driver to justice. Needing to flee the country, Pablo finds a benefactor in Soid (Lindsay Price), a renegade documentary filmmaker who offers to give him and his daughter a lift to Mexico. However, Soid's help comes with a price -- she wants to make a film about Pablo's flight from the law, and she's eager to milk the incident for as much publicity as possible. Leading man Jesus Nebot also wrote and directed the film in collaboration with Julia Montejo.
Critic Reviews for No Turning Back
Audience Reviews for No Turning Back
½
Not a Bad film, Found it to be an interesting story about a Immigrate from Honduras who while driving his bosses truck hits a little girl on a bicycle and leaves the scene because he has no license. So starts the story of him on the run with his daughter. Vernee Watson-Johnson does a great job playing the hard ass black female detective with a chip on her shoulder and a point to prove. Don't expect a happy ending cause the Shi* cloud follows Pablo right to the bitter end. Its worth the watch and also worth 3 1/2 stars
Bruce Bruce
Super Reviewer
No Turning Back Quotes
There are no approved quotes yet for this movie.