Nobody's Baby
(2001)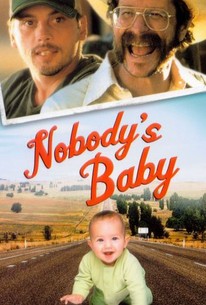 Movie Info
A slack-jawed yokel discovers the joys of parenthood while trying to avoid the law in this gleefully tasteless comedy. Billy (Skeet Ulrich) and Buford (Gary Oldman) are two dim-witted rednecks who grew up together in an orphanage; as adults, the pair ended up in prison after reading other people's mail for a laugh was interpreted as mail theft by the authorities. Buford, who is marginally more intelligent than Billy, plans a jailbreak, and after escaping prison in a paddy wagon, the pair split up, with plans to reunite later. While en route to Utah, Billy accidentally causes an auto wreck that leaves behind only one survivor -- a baby, whom Billy is able to rescue. But Billy knows next to nothing about caring for a infant, and truck stop waitress Shauna Louise (Radha Mitchell) bravely offers to help show him the ropes, with her neighbor Estelle (Mary Steenburgen) volunteering to nurse, having given her own baby up for adoption a few days earlier. When Buford tracks Billy down, he sees the baby as a potential gold mine, imagining that some relative somewhere would be willing to pay a ransom for his return. However, Billy and Shauna Louise have grown attached to the child and they aren't willing to give him up. While Buford tries to formulate a Plan B, sleazy used-car salesman Norman (Ed O'Neill) arrives on the scene; he knows Billy and Shauna Louise didn't come by the baby honestly and is eager to use this knowledge to his advantage. Nobody's Baby was written and directed by David Seltzer, who previously dealt with troublesome children as the screenwriter for the horror hit The Omen.
Critic Reviews for Nobody's Baby
Audience Reviews for Nobody's Baby
½
Nobody's Baby, or, Something Unfunny Happened On The Way To The Editing Room as the goofy antics of the first half unwisely bump headlong into more serious elements and uneven sentimentality during the second. Very reminiscent of Raising Arizona storywise with its ex-con lead character coming into possession of a baby he wants to raise while living in a trailer in Nevada. I guess they changed states to avoid copyright law. Skeet Ulrich is a likable numbskull as Billy, and a completely unrecognizable Gary Oldman steals the show as his equally dim partner-in-crime Buford. He's listed as co-executive producer, and that's probably the only way he could secure the role of a densely whiskered, Southwestern-accented redneck with pervasive hemorrhoids, and he nails it. Even the way he wears his clip-on sunglasses is funny! Radha Mitchell provides the dramatic side to the story as Shauna Louise who is physically abused by her live-in boyfriend Peter Greene, the same sleazeball who ran the pawn shop in Pulp Fiction. Life among this small community of trailer trash shows flashes of potential, but ultimately cannot decide what it wants to be which hurts on the scorecard. Definitely a must-see for Gary Oldman devotees, and appropriate to say that given the Nevada setting, for others it may be a roll of the dice.
Doctor Strangeblog
Super Reviewer
½
A bizarre and dark comedy, that is not like i expecting.
Lucas Martins
Super Reviewer
Nobody's Baby Quotes
| | |
| --- | --- |
| Billy Raedeen: | But that's the thing about tomorrows, you never know what they'll bring. |
| | |
| --- | --- |
| Billy Raedeen: | I got us a place. Two people died in it. |
| | |
| --- | --- |
| Billy Raedeen: | Like the dog once said, you can change your found, but you can't change your sky. |
| | |
| --- | --- |
| Buford Dill: | Hey, don't go postal on us! |