Nocturne
(1946)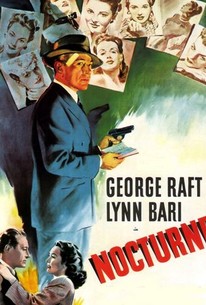 AUDIENCE SCORE
Critic Consensus: No consensus yet.
Movie Info
The moody mystery melodrama Nocturne was produced by longtime Alfred Hitchcock associate Joan Harrison. The film wastes no time getting started, with a caddish Hollywood composer (Edward Ashley) dropping dead right after the opening credits. The police think it's a suicide, but maverick lieutenent Joe Warne (George Raft) suspects foul play. Checking around, Warne discovers that the dead man had broken at least ten female hearts in the past few years, providing a motive for murder for all ten. The principal suspect is Frances Ransom (Lynn Bari), who may or may not have been avenging her sister, nightclub thrush Carol Page (Virginia Huston). Pursuing the case with such dogged diligence that he's eventually tossed off the police force, Warne nonetheless refuses to give up, and by film's end he has collared the murderer. It wouldn't be fair to reveal the killer's identity, except to note that the actor in question went on to quite a different career at Universal Pictures. Like the previous RKO George Raft vehicle Johnny Angel, Nocturne was a box-office bonanza, posting a then-impressive profit of $568,000.
Critic Reviews for Nocturne
Audience Reviews for Nocturne
½
A dated whodunit. Black and white film from 1946. At least I didn't figure it out til near the end of the movie.
½
Nice atmosphere but the film would have better with a more accomplished leading man the always stiff Raft.
½
A cop investigates a composer's suicide and finds more than he bargained for. This nifty example of film noir had a surprisingly contemporary feel to it. I could imagine it being remade almost verbatim for today's audience. The dialogue had a cynical, snappy feel to it. The performances were odd in a good way, in that everyone seemed to be hiding something. A film I'll look forward to seeing again.
Nocturne Quotes
There are no approved quotes yet for this movie.