Noi the Albino (Nói albínói)
(2003)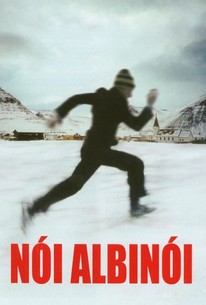 Noi the Albino (Nói albínói) Photos
Movie Info
Is he the village idiot, or a genius in disguise? Seventeen-year-old, Noi drifts through life in a remote fjord in northern Iceland. In the winter, the fjord is completely cut off from the outside world, encircled by terrifying mountains under a thick layer of snow. Noi dreams of escaping from this white prison, together with Iris, a city girl who works at the local filling station. But Noi's clumsy attempts to escape don't get him anywhere. Maybe only an enormous natural disaster can destroy his world and, in this way, offer him a prospect of a better life.
Critic Reviews for Noi the Albino (Nói albínói)
Audience Reviews for Noi the Albino (Nói albínói)
½
Like most teenagers the world over, Noi(Tomas Lemarquis) has trouble getting up in the morning for school. With his father(Prostur Leo Gunnarsson) barely in his life, that leaves it for his grandmother(Anna Fridriksdottir) to fire a warning shot with her shotgun out his window. At school, Noi stays just long enough to fill in his name on a test before leaving for the day. One of his daily stops is at a gas station where he rigs a slot machine to pay for his morning ale. And then one day Iris(Elin Hansdottir) is working there. I suppose one could compare Noi to Ferris Bueller if one were so inclined but it does not really work due to the different circumstances of where they each live.(There are items in "Noi the Albino" like the Rubik's cube from the 1980's but those are actually more like relics from a past age.) If Noi lived in Chicago, there would at least be something to do and pass the time, instead of this small village in Iceland where there is nothing to stimulate his high intellect, thereby limiting his potential.(He's also talented. I could not hit that window in a million years.) And it is remarkable how much a character Iceland is in this engaging tragicomedy.
Albino Noi hangs around in his small snowy village, too cool for school, too bored to do anything else. Not a lot happens apart from a rush of action at the end, but it's quietly mesmerizing, even if Noi is a bit of an idiot.
Thankfully there's enough substance here to keep you interested till the end & you can feel the boredom & dissatisfaction of the main character, I also liked the humorous nihilstic tone of the movie
Noi the Albino (Nói albínói) Quotes
There are no approved quotes yet for this movie.