Nola
(2003)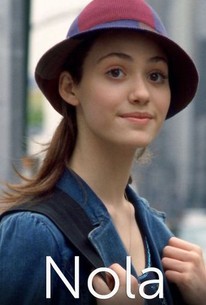 Movie Info
Nola (Emmy Rossum) is a Kansas teen who runs away to New York City to escape an abusive stepfather. Once she gets to the big town, she sets about looking for a job and for her father, whom she's never met. She attacks both tasks with fierce determination, but has little success, until she stumbles upon a greasy spoon near Union Square where the eccentric owner, Gus (Sam Coppola), immediately takes a liking to her. Soon, she's waitressing at the diner and crashing in a room upstairs with the handsome fry cook, Ben (James Badge Dale), who also goes to law school when he feels like it. Nola spends her spare time using the phone book in an effort to track down the man she knows only as "Hutch." Things look up for Nola when she meets the sassy owner of the diner, Margaret (Mary McDonnell), who also runs a very classy escort service. Margaret sees something in Nola, and hires the girl as her assistant. As Nola's relationship with Ben gets more intimate, she tells him about her dream of being a successful songwriter. But things take an ugly turn when one of Margaret's escorts, a transsexual named Wendy (Michael Cavadias) offends a rich and powerful client, Niles (Thom Christopher). Niles is determined to have his revenge, and tries to use his media contacts to have an exposé written about Margaret's business. But the reporter assigned to the story, Leo (Steven Bauer), turns out to be an old friend of Margaret's. Nola, the feature debut of writer/director Alan Hruska, a former trial lawyer, had its world premiere at the 2003 Tribeca Film Festival.
Audience Reviews for Nola
An over-the-top fairytale ending nearly ruined a pretty good story up until then. Nola (not the Big Easy), played by a sweet Emmy Rossum, is a talented young singer-songwriter who runs away from a bad situation at home and winds up in New York City hoping to find her father. The first hour, although filled with an incredible string of good luck for this kid, had this viewer hooked. The last half hour went from improbable to wildly cliched and entirely predictable. At times, there were opportunities to rein it back in and make it interesting, but the editor and the director conspired to go with the formula. The film opens almost in mid-scene and for a moment, this viewer thought the IW player had messed up. The opening only gave us a brief taste of what drove Nola to hit the road and a few more details were filled in later. Ms Rossum was a true bright spot in this rather sappy tale that could have used a bit more spice and a little less treacle.
Mark Abell
Super Reviewer
Nola Quotes
There are no approved quotes yet for this movie.