Nomad
(2007)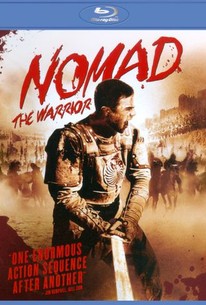 Movie Info
Czech New Wave leader Ivan Passer picks up the torch originally ignited by Russian director Sergei Bodrov to bring Central Asia's first-ever event film to the light of the silver screen. Penned by Russian screenwriter Rustam Ibragimbekov, Nomad tells the tale of 18th-century Kazak military strategist Ablai Khan -- a forward-thinking visionary whose efforts to unify his country eventually helped to define Kazakhstan's borders. Warned by a mystical Kazak warrior named Oraz (Jason Scott Lee) that a child who will unite the warring local tribes and free his people is about to be born, invading Jungar leader Galdan Ceren (Doskhan Zholzhaxynov) -- whose soldiers are currently occupying Kazakhstan -- instructs his assassins to target Mansur (Kuno Becker), the son of a local sultan. After being saved from a grim fate by none other than Oraz, Mansur is raised to become a fearless warrior whose vision of a unified Kazak state drives him to fulfill the ancient prophecy. Tirelessly training alongside his best friend Erali (Jay Hernandez), Mansur leaps into action when love interest Gaukhar (Ayanat Yesmagambetova) is abducted by malevolent Jungar swordsman Sharish (Mark Decascos). Originally set to be helmed exclusively by Passer, Nomad was finished by director Bodrov after a production hiatus threw the fate of the film into question and the European production partner Wild Bunch stepped in to help assure that the film was eventually completed.
News & Interviews for Nomad
Audience Reviews for Nomad
The gorgeous locations and epic fight scenes can't compensate for all of the bad acting, laughable dialogue and an awful plot full of clichés.
Carlos Magalhães
Super Reviewer
The story of a young warrior uniting the Kazakh tribes of the vast tundra plains against Mongolian invaders. Although it combines a few international B-movie stars to tell this tale, the film actually looks really good and far from cheap. The cinematography and landscapes are very beautiful, the soundtrack nicely pompous and fitting. Sadly, that's already the best you can say about this oddly boring film. Too many stereotypes and bad dialogues make it hard for the audience to get involved. The riding and sword fight action scenes are decent at best but have been done better and more exciting in many movies. Although things do get better towards the end it somehow leaves a stale taste in your mouth, considering how much better this could have been with a little more love for a decent story and lines.
½
To my knowledge, this is the first film I've seen out of Kazakhstan, which turns out to be a historical epic adventure about Ablai Khan. This is not as good as the likes of 300 or The Lord of the Rings, but it isn't trash either.
The story is straightforward, but there are times where it gets a little choppy. I want to say that this choppiness helps because a good portion of this flick is boring. I think some of the boredom goes away because of this. I am not saying that this is a good thing either. It just so happens that it helps in this situation.
The first half of the film is the big letdown. The pace is slow and the action, which is decent at best, is at a minimum. The second half is more action, but it isn't enough to up the rating for this flick. The ending is lacking as well. There is sort of this big buildup right before it, but nothing BIG really happens.
There is a decent sword fight in the second half, not the ending, and the rest of the fights are a let down. Mark Dacascos is better than this.
The cast is questionable. This movie is from Kazakhstan, but you have the likes of Jay Hernandez, Jason Scott Lee, and Mark Dacascos showing up as the bigger characters. Jay Hernandez feels somewhat out of place, but Jason Scott Lee fits right in and becomes the best character of the movie. In case you are wondering, everybody speaks Kazakh, which is a huge plus.
I find this film to be a hit or miss amongst most people. If you like these historical warrior movies, then give this a shot.
Nomad Quotes
There are no approved quotes yet for this movie.