Nomads of the North
(1920)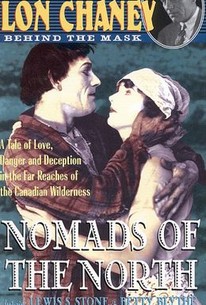 AUDIENCE SCORE
Critic Consensus: No consensus yet.
Movie Info
Author James Oliver Curwood's tales of the Northwest were made into so many motion pictures that it seems like he alone is responsible for every Mountie cliché that was committed to cinema. Case in point is this picture: Raoul Challoner (Lon Chaney in a rare romantic role) is in love with Nanette Roland (Betty Blythe), but while he is in the North, Buck McDougall (Francis MacDonald) tries to steal her away by claiming that he is dead. Challoner, however, reappears just in time to halt the wedding. Later he gets in a fight with McDougall and one of his cronies; the crony is killed and Challoner and Nanette flee to the North woods. A Mountie, Corporal O'Connor (Lewis Stone), is assigned the task of arresting Challoner, but McDougall gets there first. He tries to kidnap Nanette while Challoner is away, but she is rescued by his pets -- a dog and a bear. A forest fire breaks out and Corporal O'Connor saves Nanette, but leaves McDougall behind to burn to death. Instead of getting his man, O'Connor tells Challoner that he will tell his superiors that he died in the fire, thus leaving him to go free.
Audience Reviews for Nomads of the North
A cliched, silly, and sometimes really ridiculous movie about a romantic adventure in northern Canada. It tries to show us how rugged and wild people who live up there are, but it just comes off as too ridiculous to be believable. The romantic story is okay, but all too predictable. Overall it's just an okay movie.
Nomads of the North Quotes
There are no approved quotes yet for this movie.