Nora
(2001)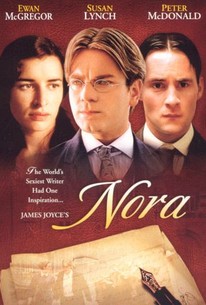 Movie Info
The true story of the intense love affair between James Joyce and Nora Barnacle, the simple servant girl who became his life-long lover and muse.
Audience Reviews for Nora
James Joyce and Nora Barnacle fall in love, but societal pressures and sexual obsession complicate their relationship. When I write the one-sentence plot summary in my reviews, I try to find the central conflict; however, finding the central conflict, what keeps this film interesting, is remarkably difficult, and I had difficulty putting my finger on what keeps these lovers apart. At times it is societal pressures about sex and sexuality, and at times the film focuses on Joyce's jealousy, his feeling that it is impossible to truly know Nora sexually. What's worse is that by the end of the film, I didn't see the central conflicts coming to any kind of resolution. What adjustments do these characters make in order to function together? What should we learn from this story? I think the reason I enjoyed this film a little bit is the insight into Joyce's work. We see scenes that are reminiscent of "The Dead," "Araby," and Ulysses. I didn't know that Nora was the inspiration for each of these works, so I guess I learned something. Overall, this isn't a complete film because the conflict isn't resolved and I think one needs to be intimately familiar with Joyce's writing in order to understand it.
Jim Hunter
Super Reviewer
I'm giving this only two stars: One for Ewan McGregor, and one for James Joyce. Unless you are obsessed with the careers of either one, there is absolutely no reason to watch this movie. McGregor does his best to lend his shining talent to this turd. I've seen better production value on the Lifetime network or PBS. Completly boring. I might as well have listened to an Audio Book of Joyce's biography.
Sean Gillespie
Super Reviewer
½
Boring, not the kind of movie I would have chosen to watch but I like Ewan McGregor.
Nora Quotes
There are no approved quotes yet for this movie.