Norbit
(2007)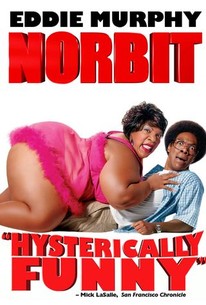 TOMATOMETER
AUDIENCE SCORE
Critic Consensus: Coming off his Oscar-nominated performance in Dreamgirls, the talented-but-inconsistent Eddie Murphy plays three roles in Norbit, a cruel, crass, stereotype-filled comedy that's more depressing than funny.
Movie Info
A meek and lovable milquetoast married to an overbearing, overweight tyrant finds his life turned upside down when he meets the woman of his dreams in this romantic comedy starring Eddie Murphy, Thandie Newton, Cuba Gooding Jr., and Eddie Griffin. His entire life, Norbit (Murphy) has been picked on and put down, and after being bullied into marrying the most obnoxious woman in town (also Murphy) it appears as if that's the way things will remain until the day he dies. Upon meeting the one woman who seems to accept him for who he is, Norbit is instilled with a newfound sense of hope for the future. In order to find true happiness, however, Norbit will first have to gather the courage to stand up to his monstrous spouse once and for all. ~ Jason Buchanan, Rovi
News & Interviews for Norbit
Critic Reviews for Norbit
Audience Reviews for Norbit
When I was in college, this film was playing in the student pub; I had nothing else better to do, so I watched it. Boy was that a bad choice. This film was poorly written, acted and directed with a bad cast. The result is one of the worst films that I have seen in recent memory. This is one of the most stupid comedies ever, and it's no wonder why Eddie Murphy's career is in such shambles. Norbit is a strained comedy right from the start. There's nothing funny about this film, in fact the only good thing about this film is the end credits. This is a painful comedy that I hated. The film suffers from a bad script, a poor cast and bad directing. There are no redeeming factors in this film. The film provides you with a waste of time, and there's nothing here that is fun, or entertaining. Norbit is an unfunny film that will depress you. This is simply put a comedy with no laughs or entertainment value whatsoever. Eddie Murphy is horrible on-screen, and this is by far one of the stupidest comedies I've seen. Norbit is a very forgettable film that doesn't deliver. The film is a pure waste of time from start to finish and shouldn't be watched by anyone looking for an effective comedy. Avoid this comedy; you'll be glad that you did. Eddie Murphy is a has been, and Norbit is proof to that. This is a film that is unwatchable, and definitely not worth your time.
½
Been there done that......nutty professor zzzzzzz.
Eric Alvarez
Super Reviewer
½
Kind of mixed. It isn't as horrible and offensive as some people seem to be saying, but it isn't as funny either. I find with this one I kind of get bored watching it, though the high point for me is Raspucia. I actually think that character is kind of amusing - I don't think it's offensive that she is fat, I mean come on, it's a horrible character who just happens to be very overweight. That character would be just as horrible on a skinny girl. The bits that she (or he, as she, to be more exact) is not in are the bits that drag. Norbit is a dork - there is nothing interesting about him. The pimps are so so, Mr Wong is mildly offensive with his whaling. Thandie is distracting just by how stick thin she is, but she is nice in this. It's a dumb comedy for those times you can't be bothered to think about a movie too hard. Bit of a laugh at some of the Rasputia stuff, but otherwise a bit on the bland side.
Nicki Marie
Super Reviewer
Norbit Quotes
| | |
| --- | --- |
| Mr. Wong: | Norbit, you married a gorrilla |
| Mr. Wong: | Norbit, you married a gorilla. |
| | |
| --- | --- |
| Norbit Albert Rice: | You shouldn't drink that |
| Norbit Albert Rice: | You shouldn't drink that. |
| Rasputia: | Why? |
| Norbit Albert Rice: | Your with child1 |
| Norbit Albert Rice: | Your with child! |
| Rasputia: | Oh that, no that was gas [gases] There's your child |
| Rasputia: | Oh that, no that was gas. There's your child. |